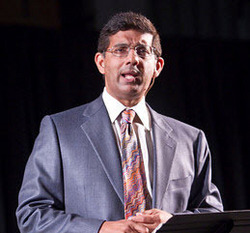 I believe the benefit for GCU was that Dinesh challenged our students to consider how they can defend their faith in the culture we live in that is often antagonistic to religion
Phoenix, AZ (PRWEB) March 24, 2010
Grand Canyon University, a Christian studies university, welcomed renowned conservative Christian author Dinesh D'Souza to speak on his thought-provoking best-selling book on Thursday, February 4, 2010.
D'Souza spoke about his book 'What's So Great About Christianity' in front of nearly 2,000 people at the Christian studies university's Antelope Gym. The crowd was comprised of members of 40 community churches, Grand Canyon University students, faculty and staff, as well as friends and family.
D'Souza's discussion focused on how advances in science actually support the concept of Christianity rather than oppose it. He successfully integrated Christian beliefs, faith and science into a solid pro-Christianity discussion by using scientific facts from the Big Bang Theory to newly discovered principles of matter and energy to support Christian beliefs.
"I believe the benefit for GCU was that Dinesh challenged our students to consider how they can defend their faith in the culture we live in that is often antagonistic to religion," said GCU Dean of Students and University Pastor Mik Milem. "In the future we hope to bring other thought provoking Christian speakers to the campus and provide the opportunity for the Christian community in Phoenix to hear some of the best Christian thinkers articulate our faith."
D'Souza was praised for be an engaging, entertaining speaker and using quiet humor to reinforce his point. Audience members left the Christian studies university feeling energized and inspired by his word, with many eager to learn more about his best-selling books. Individuals who were unable to attend the presentation and are interested in hearing D'Souza's speech can listen to it at Dinesh D'Souza Christian Studies Presentation.
About Grand Canyon University's College of Liberal Arts
Grand Canyon University is Arizona's private university. The College of Liberal Arts (COLA) is the foundational college of Grand Canyon University. It has the largest number of faculty members of any college at the university and provides course offerings as diverse as Molecular Genetics and Robert Frost, with majors ranging from Digital Media and Graphic Design to Christian Studies. We are the backbone of what is called the general education core. These are courses that are required for all student degree programs. GCU is a Christian liberal arts university, and the College of Liberal Arts forms the well-spring from which flows the university and its mission.
###