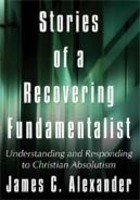 It has been said that the opposite of faith is not doubt, but certainty.
Owensboro, KY (PRWEB) October 30, 2008
USABookNews.com has named Stories of a Recovering Fundamentalist: Understanding and Responding to Christian Absolutism by James C. Alexander (AuthorHouse 2008) as the winner of THE NATIONAL BEST BOOKS 2008 AWARD in the category of Religion/Christianity.
USABookNews.com, often recognized as the premiere online magazine and review website for mainstream and independent publishing houses, named 500 winners and finalists in over 140 categories. Winners and finalists traversed the publishing landscape: Simon & Schuster, Tarcher/Penguin, HarperCollins, Hyperion, St. Martin's Press, McGraw-Hill, John Wiley & Sons & hundreds of independent titles contributed to this year's outstanding NBBA competition.
Part memoir and part carefully researched investigation; Stories of a Recovering Fundamentalist: Understanding and Responding to Christian Absolutism is sure to spark conversation among readers from all religious backgrounds. It offers worthwhile information for mainstream Christians, curious evangelicals, recovering fundamentalists or anyone wanting to understand this timely topic.
In addition to detailing experiences in the Jesus Movement of the 1960's and early 70's as well as Alexander's eventual abandonment of absolutism, Stories of a Recovering Fundamentalist highlights the shortcomings of absolutism, dispels commonly held myths and explores the place of Christian absolutism in modernist and postmodernist culture.
Alexander deals with mainstream fundamentalism, often termed absolutism to distinguish it from the dangerous and militant fundamentalist movements. The fundamentalism discussed in this book is a variety embraced by many Americans. Representing one segment of the culture wars in the US and currently a large part of the US religious landscape, adherents of Christian fundamentalism have influenced the political and religious/philosophical discourse in America since the mid 1970's.
"It has been said that the opposite of faith is not doubt, but certainty." Drawing on this notion, Stories of a Recovering Fundamentalist recounts the author's journey as a member of the fundamentalist subculture as a child and his life and his experience as a part of the Jesus Movement, a Christian fundamentalist movement made up of deserters of the hippie drug culture. As the story unfolds, critical research related to the psychology, sociology, and history of the subculture provides a framework for understanding Christian fundamentalism.
In addition to detailing experiences in the Jesus Movement and Alexander's repudiation of fundamentalism, Stories of a Recovering Fundamentalist discusses misconceptions concerning fundamentalists often embraced by more liberal Christians. Discussing fundamentalism from the perspective that respects diversity, Alexander sees the heart of the fundamentalist position as a case of misdirected certitude. Alexander writes:
Throughout, it is stressed that fundamentalism is flawed at its core because of a basic failure to distinguish between two types of truth: the mythic and the empirical. It insists on putting mythic truths on the same plane as empirically established truth. It abhors relativism and demands certainty. Fundamentalists fail to recognize the human element in religion and the creation of religion, therefore they tend to view all of the Bible as absolute, true, without error, and (so they claim anyway), a book they accept without qualifications. This notion of a flat Bible, where all parts are true and equally useful and valid and no parts are viewed as being on a higher revelatory or moral plane is explored and found wanting.
Alexander makes use of his academic background in psychology and historical theology in his study of Christian absolutism and its flaws. He inspects the belief system through historical, theological, sociological and psychological contexts and provides the reader with a framework for understanding it. Stories of a Recovering Fundamentalist is both an engaging memoir and a diligently researched, thought-provoking examination of Christian fundamentalism.
James C. Alexander is an ordained minister who has served congregations in the Church of the Brethren and Cumberland Presbyterian denominations. He graduated from St. Thomas Theological Seminary and holds a doctorate in curriculum and instruction from the University of Arkansas. He serves as a professor in a church-affiliated college and lives in Kentucky with his wife, Irene.
For more information about the book, visit AuthorHouse.com
Amazon.com
For a list of winners and finalists in the NBBA competition see the awards page at USABookNews.com.
# # #