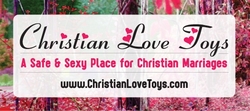 A Safe & Sexy Place for Christian Married Couples to Shop for Sex Toys and Adult Novelties
Riverside, CA. (PRWEB) August 12, 2009
Christian sex toys and adult novelties!? With the acclaim and support of many ministers and initial customers, Christian Love Toys recently launched with the mission of providing "A Safe & Sexy Place for Christian Married Couples to Shop for Sex Toys and Adult Novelties". The site establishes that Christian sex should be spicy and exhilarating for married man and woman as God intended according to His design. Many sex toy and intimacy products can be safely enjoyed within the context of the Christian marriage bedroom (living room, car back seat, kitchen, etc).
Traditionally, the shopping experience for sex toy products can be overwhelming, awkward, embarrassing, and is plagued with a plethora of pornographic imagery. Christian Love Toys solves this by not selling any pornography or products with pornographic packaging. Also, all orders are quickly and conveniently shipped directly to customers' homes in discreet, non-descript, plain brown packaging.
Christian Love Toys carefully selects a wide and rapidly growing inventory of fun and sexy toy products for married couples to enjoy together. The product selection includes silicone and water based lubes, textured and flavored condoms, feather ticklers, board & card sex games, erotic dice, blindfolds, massage oils & lotions, and more. The store also maintains an extensive inventory of massage vibrators, which includes bullet vibrators, egg vibrators, mini vibrators, G spot vibrators, waterproof vibrators, and others in a variety of shapes, sizes, and colors.
A recent passionate customer testimonial says it all "I can't believe I finally found a site like yours with sex toys for Christians! If I could hug you, I would! You delivered exactly what you promised! I really appreciate what your company does; you really do provide a safe place for my husband and I to shop for fun sex toys and vibrators without all those filthy ads and gross products. Our newly purchased Hitachi Magic Wand massage vibrator was shipped quickly, and we love it! It's time Christians take a stand against porn and other degrading materials while letting the world know Christian married sex can and should be hot ~n~ spicy."
Through the end of August 2009, Christian Love Toys is running a few specials, free shipping on orders of more than $50 or $4.95 flat rate shipping AND a FREE mystery gift ($6.95+ value) with purchases of $30 or more.
Christian Love Toys encourages all married couples to review Site Guidelines before and during their online shopping experience. The Site Guidelines provide information on how to browse the selection of love toys and marital aids, while still appropriately serving and submitting to God and spouse. For example, the Guidelines instruct married couples to pray and shop together, while always respecting each others' comfort levels.
To avoid any potential misunderstanding by the general public or Christian peers, the store has prominently posted a notice on the home page "You cannot solve a boring, unfulfilling, irrelevant, or failing marriage with sex toys, fantasy, and novelty! True marital intimacy is the result of seeking a deeply personal relationship with Jesus Christ and actively living out His teachings from the Bible. Focus on intentionally serving and appropriately submitting to your spouse... pray together, read the Bible together, attend & serve at church together, join a small group / Bible study together, seek accountability, plan date nights, and grow through intentional relationship. The products and resources at Christian Love Toys should be used to complement, not replace a Christ-centered marriage." The store also maintains a page dedicated to directly addressing Common Criticisms.
Married couples may view the store and selection of sex toys, adult novelties, and massage vibrators at Christian Love Toys. Special packages are available to churches for marriage conferences, marriage retreats, and marriage getaways
About Christian Love Toys - Newly launched in 2009, Christian Love Toys is an ecommerce store focused on enriching marital intimacy by selling Christian Sex Toys and providing A Safe & Sexy Place for Christian Marriages. The store features a large and rapidly growing inventory of adult novelties, marital aids, marriage resources, massage vibrators, lubes, and much more. The site carries no pornographic products, media, or imagery.
Media and Public Relations inquiries related to Christian Love Toys may be directed to 888.696.3866.
###