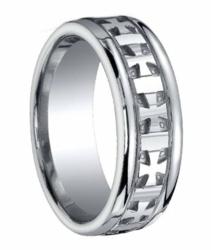 …more men are choosing rings that express a desire to honor God in their marriage, and Christian rings are one way of doing that.
Jensen Beach, FL (PRWEB) February 28, 2012
Since JustMensRings.com (JMR) launched nearly seven years ago, this destination online retailer has garnered a loyal following of jewelry shoppers. Customers rely upon JustMensRings.com for the best selection of affordable designer men's rings and men's fashion rings every day. JMR is pleased to introduce an impressive new selection of men's Christian rings, featuring carved gold designer cross rings from Benchmark, black titanium cross rings, and a spectacular variety of tungsten, stainless steel, titanium and silver Christian rings.
One of the best known retail jewelers for men, JustMensRings.com has recently added several new collections of contemporary rings, including several new Christian rings for men. JMR shoppers are in for a treat with this new collection of men's Christian rings, many of which were added in response to customer demand. Rather than offering just a few basic cross rings, JMR has gone a step further by including two-toned stainless steel puzzle rings, black tungsten "cross and fish" rings, men's Christian spinner rings, and an impressive assortment of alternative metals. In addition to wearing these attractive rings to make a statement of their Christian faith, many men are choosing to wear them as wedding bands.
To understand what makes men's Christian rings so special, one must first understand the importance of the cross. Both men and women have been wearing the cross in their jewelry for centuries, and it remains the most enduring and recognizable symbol of Christianity. Only recently have men's Christian rings become such an important way for men to honor God in their relationships. By choosing a cross ring as a wedding band, Christian men are choosing to show the world that God comes first in their marriage. Until recently, men's Christian rings were only available in a few simple styles, but looking at the latest collection at JustMensRings.com, these rings are clearly becoming a trend.
As the price of precious metals goes up, more men have been looking for alternative styles and metals for their wedding bands. The new men's Christian rings for sale at JMR take advantage of the latest contemporary metals to create entirely new designs. Many of these styles incorporate black tungsten, titanium or stainless steel, while others are made from two toned metals in contrasting colors. For men who still insist on wearing gold, JMR has included a few of Benchmark's best-selling carved Christian rings, and for those who like to wear the most cutting edge styles there are several new rings to choose from. Men's Christian rings are not always that conservative either; one of the edgier styles in this collection is a black stainless steel ring with contrasting iron crosses. Another one is made of tungsten with gold PVD plated crosses all the way around and a gold PVD-plated edge.
According to JMR co-owner Roy Devine, "One reason that today's buyer is looking at men's Christian rings is because they want a ring that makes a statement. By offering such a diverse selection of Christian rings in metals such as black tungsten, titanium and 18K gold, we are recognizing that religious rings are more than just a passing trend." Instead of shopping for a traditional plain wedding ring, more men are choosing rings that express a desire to honor God in their marriage, and Christian rings are one way of doing that.
About JustMensRings:
As an Internet-only retailer, JustMensRings.com is dedicated to providing a simple and secure online shopping experience. This is one site where customers know they are getting the best possible prices on an extraordinary selection of men's rings. JMR's customers have come to expect high standards of service, selection and quality when they shop at JustMensRings.com. In fact, Just Men's Rings (JustMensRings.com) now offers the largest selection of men's fashion rings on the Internet, and they are the only store in the U.S. that offers men's large size rings through size 20. They also lead their competitors with an unparalleled assortment of unique and alternative men's wedding rings, and JMR is known for their very low prices on men's gold rings. Despite the recent rise in gold prices, JMR keeps their prices low and affordable, and shoppers won't find better prices on silver, cobalt, palladium or platinum anywhere.
###