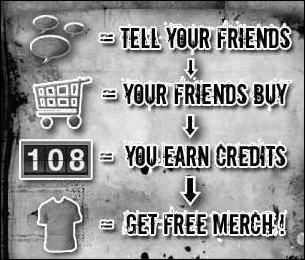 who wants to pay for advertising when your customers can do it for you?
Corona, CA (PRWEB) September 20, 2006
As a part of its ongoing viral marketing strategy, Christian Store C28 has launched a new, first of its kind, Street Team Christian Marketing website. The purpose of the C28 Street Team, according to C28 website administrator Justin Palmer, is "to allow our already faithful customer base an easy avenue for telling their friends and family members about the C28 ministry and products."
Traditionally, street teams have been used by bands and other small organizations as a way of stirring up grass roots support for a cause. "The most effective advertising," continues Palmer, "has always been word of mouth referrals from friends or family members who have already used a product. We intend to give our customers every tool possible to do this easily and effectively."
The C28 Street Team website allows customers to easily signup by creating a free account. Once inside the website, members are provided with several promotion tools including templates people can email to friends or family, printable flyers to hand out, and promotion packs that can be requested including brochures and stickers. In addition, the street team allows members free access to many forms of downloadable media such as C28 branded screensavers, wallpapers, AOL buddy icons, avatars, and more. In addition to providing members with free content, the C28 Street Team also works as a referral program. For example, if a member sends an email to another person and that person visits the C28 website and makes a purchase, the original person earns 10 percent of the referral's order in store credit.
"Overall, the initial response to our Street Team has been overwhelming," says Palmer. "In only a few weeks time, we have over 3,000 members who absolutely love the idea of the street team."
C28 has been selling Christian shirts, accessories, and music online since 2004. Since beginning its online store, C28 has witnessed the power of word of mouth advertising. "Since our beginning," relates Palmer, "our number one source of business has been people telling others about our clothing. Only now are we beginning to harness the full power of the Internet community by empowering our customers to more easily refer their friends."
Palmer believes that more companies will catch-on to this "street team" concept and begin empowering their customers with similar tools. "In a few years, I see Internet marketing moving further away from traditional strategies such a banner advertising, and moving towards empowering their existing customer base to do the advertising for them."
"After all," Palmer asks, "who wants to pay for advertising when your customers can do it for you?"
About C28
C28 is a Christian clothing retail store chain, offering an alternative to the mainstream mall stores. The mission at C28 is to share the life changing gospel message of grace, truth and love of Jesus. Currently there are 6 company owned stores in Southern California, one new C28 Christian franchise store, and a fast growing e-commerce website.
For more information contact:
Justin Palmer - C28 Website Administrator
169 Radio Rd
Corona, CA 92879
(951) 354-9528
# # #