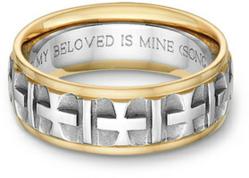 I am My Beloved's and My Beloved is Mine.
(PRWEB) February 02, 2012
Jewelry retailer Apples of Gold announced plans to update their existing line of Christian wedding bands. By working closely with jewelry manufacturers, Apples of Gold has lowered their existing prices, which already stand at 40 percent below average retail pricing. The coming year also includes plans to add new designs, creating a more diverse selection of rings.
Apples of Gold currently has an extensive line of Christian wedding bands that offer an elegant way for couples to profess their faith. A featured collection is the Bible Verse Rings, which allows brides and grooms to inscribe full passages of Scripture inside their ring, instead of just the Bible chapter and verse name. This truly makes a wedding band unique. With space for 225 characters, couples can choose their favorite verse to share on their bands, or choose one for each other. Apples of Gold suggests several verses, such as the romantic line from the book Song of Songs: "I am my beloved's and my beloved is mine." The traditional verse from 1 Corinthians 13 is also an excellent fit: "Love is patient, love is kind and is not jealous: love does not brag and is not arrogant, does not act unbecomingly; it does not seek its own...but rejoices with the truth." Customers are also encouraged to choose their own verse for their ring.
The Christian wedding band selection on ApplesofGold.com also includes rings with crosses to signify the Lord Jesus Christ. These bands come in a variety of metals and styles. The standard cross can stand alone on the ring or with crosses to signify the Holy Trinity. The Parisian cross ring encompasses the entire band, creating a unifying style. A design engraved with the Maltese cross continuously across the ring is a bold statement of faith and fashion.
The Jerusalem cross offers a more intricate composition by blending the Crusader's cross with the Greek cross. This emblem includes four small cross to represent the four Gospels proclaimed to the four corners of the Earth, while the large cross symbolizes Jesus Christ. Another ring design that embodies the sacrifice of Jesus is the Crown of Thorns ring in 14K white gold. This simple but powerful style is an enduring reminder of the Savior's sacrifice.
Couples seeking to embody their faith in wedding bands should look no further than Apples of Gold for their jewelry needs. The broad collection of Christian rings offer a variety of sophisticated ways to honor the covenant of marriage.
###