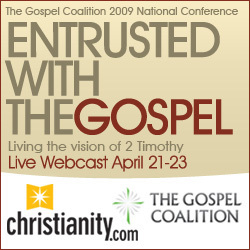 While churches and Christian ministries often struggle to determine the best ways to utilize the internet to reach a broader audience, Christianity.com's webcast of The Gospel Coalition's Conference proved that the Christian church and community can embrace new technologies and advance the Gospel in ways never before imagined
Richmond, VA (Vocus) April 30, 2009
Discussion surrounding Christianity.com's live webcast of The Gospel Coalition 2009 National Conference on April 21 – 23, took the social network site Twitter.com by storm as hundreds of viewers and attendees dialogued about conference speakers and shared notes online.
"While churches and Christian ministries often struggle to determine the best ways to utilize the internet to reach a broader audience, Christianity.com's webcast of The Gospel Coalition's Conference proved that the Christian church and community can embrace new technologies and advance the Gospel in ways never before imagined," said Stephen McGarvey, the executive editor of Christianity.com. "We are thrilled by the enormous positive response we've received about this event, especially from our friends on popular social networking websites like Twitter.com and Facebook.com"
On the first day of the live webcast, Twitter.com comments for the Christianity.com/The Gospel Coalition webcast by online viewers and attendees soared to over 1,100 posts, sending it to the homepage of Twitter and into the daily top 20 most talked about items. Conference participants posted over 2,400 times on Twitter.com during the three day event.
More than 26,000 people visited the free video webcast on Christianity.com. Additional participation on the social network site Facebook.com and in the personal blogs of influential church leaders also contributed to the immense success of the webcast.
"This conference webcast brought challenging theological teaching to thousands who were unable to attend the conference due to financial and other constraints. Social networking websites allowed these online viewers to interact with those in actual attendance," added McGarvey. "From new Christians to long-time church attendees to church leaders and established pastors, everyone benefited from The Gospel Coalition speakers and the ability to interface with one another about event.
"By all measures the webcast was a tremendous success," said The Gospel Coalition Co-founder Don Carson, a Research Professor of New Testament at Trinity Evangelical Divinity School in Deerfield Illinois. "This technology enabled us to reach a far greater audience than otherwise possible. We are grateful for the partnership with Christianity.com."
All sessions from The Gospel Coalition 2009 National Conference are available on-demand for free at Christianity.com as well as video of theological questions answered by The Gospel Coalition pastors and leaders.
Visit: http://www.christianity.com/gospelcoalition/
With more than 3,000 in attendance at the conference in Chicago, Illinois, Christianity.com is pleased to expand the reach of The Gospel Coalition's message as delivered by some of the most respected church leaders today including Tim Keller, John Piper, and Mark Driscoll. As the online destination for spiritual growth and theological resources, the team at Christianity.com looks forward to offering future live webcasts and solid biblical content for Christians around the world.
About Christianity.com
Christianity.com is a leading provider of Christian content dedicated to helping users grow in their Christian faith and knowledge of the Bible. Christianity.com is owned and operated by the Salem Web Network, (SWN) the online division of Salem Communications. SWN consists of 12 national sites, including the most well-known brands in the faith marketplace, such as Crosswalk.com, OnePlace.com, and Bible Study Tools. Visit: http://www.salemwebnetwork.com.
About The Gospel Coalition
The Gospel Coalition is a groundbreaking gathering of Christian leaders in the Reformed tradition who delight in the truth and power of the gospel, and who look to place the gospel of Christ crucified and resurrected at the center of all they cherish, preach, and teach. The Gospel Coalition seeks to foster a network of Christian pastors and leaders who encourage one another to faithfulness and fruitfulness in life and ministry in this rapidly-changing and spiritually hungry world. Visit: http://www.thegospelcoalition.org.
About Salem Communications
Salem Communications (NASDAQ: SALM) is a leading U.S. radio broadcaster, Internet content provider, and magazine and book publisher targeting audiences interested in Christian and family-themed content and conservative values. In addition to its radio properties, Salem owns Salem Radio Network(R), which syndicates talk, news and music programming to approximately 2,000 affiliates; Salem Radio Representatives(TM), a national radio advertising sales force; Salem Web Network(TM), an Internet provider of Christian content and online streaming; and Salem Publishing(TM), a publisher of Christian-themed magazines. Upon the close of all announced transactions, the company will own 93 radio stations, including 59 stations in 23 of the top 25 markets. Additional information about Salem may be accessed at the company's website, http://www.salem.cc.
Contact:
Kristie Rutzel
(804) 205-9674
kristie.rutzel(at)salemwebnetwork.com
###