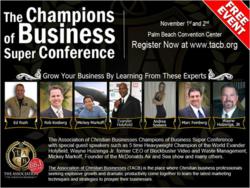 At last, a professional Christian business event focused on helping the Christian business professionals grow and market themselves!
Palm Beach, FL (PRWEB) October 12, 2012
The Association of Christian Businesses (TACB) is the place where Christian business professionals seeking explosive growth and dramatic productivity come together to learn the latest marketing techniques and strategies to prosper their business. TACB is hosting The Champions of Business Super Conference on November 1st and 2nd in Palm Beach, Florida. The event features 5 time Heavyweight Champion of the World Evander Holyfield. "It's hard to write about Evander without resorting to cliches such as 'a living legend, larger than life, heart of a champion, an iron will' but the problem is that all of these thing are true," says Rob Kosberg of TACB. "There's more to Evander than boxing, and we are excited for him to share his experiences with us at this conference," says Kosberg.
Andrea Szebeni, Registered Dietitian, implemented TACB style marketing and increased her professional fees by 10 fold and earned more in one week than in the previous 3 months. "TACB style marketing transformed my business and has changed my life! I now have the confidence and strategies to charge what I am worth and have attracted the kind of clients that appreciate me and pay me what my services are worth!" says Ms. Szebeni. The event features other special speakers such as, Wayne Huizenga Jr., former CEO of Blockbuster Video and Waste Management, Mickey Markoff, Founder of the McDonalds Air and Sea and many others.
Learn from influential Christian leaders with extraordinary messages of inspiration and advanced marketing strategies. Christian business owners that will challenge and direct businesses to new heights, including celebrity athletes, CEOs, and some of the world's top marketing experts. Attendees will be able to network with other Christian business professionals in a power pack day fueled by like-minded creative entrepreneurs looking to discover tactics and strategies conducive to explosive business growth. "At last, a professional Christian business event focused on helping the Christian business professionals grow and market themselves! Real life examples and strategies that successful Christian business owners are using right now to grow and prosper their businesses" says Carl Foster, Veteran Radio and Television Host.
TACB also offers Triumph Christian Business Magazine, the only digital Christian Business magazine that one will ever need to stay on top of the latest marketing and business growth strategies for Christian business professionals. Triumph offers articles, videos, strategies and tips to grow one's business and income and make a difference for God and others.
About Rob Kosberg
Rob Kosberg is the Co-Founder of TACB and a Veteran Financial and Marketing Consultant. With a career spanning over 20 years Rob has personally helped thousands of clients achieve their dreams - both personal and professional.
Rob is a huge proponent of Personal Entrepreneurship and focuses on helping small business owners develop a systematic lead strategy to build wealth and time freedom using his marketing techniques and services. In the last 5 years, during the worst economic downturn of our generation Rob and his partners built 2 different Multi-Million Dollar Businesses in less than 18 months by meeting clients needs first before their own.
Rob has also written a book titled "Life After Debt: Practical Solutions To Get Out of Debt, Build Wealth, And Radically Transform Your Finances Forever!" Rob states, "This book is the culmination of thousands of one to one meetings with people just like you and I but deep in debt, in many cases their debt was not so much a function of irresponsibility but rather health issues, divorce and the economy." 'Life After Debt' offers practical solutions for everyday people to take control of their finances once and for all. In it's first 2 weeks it became the Amazon #1 Best Seller in the Finance, Money Management and Budgeting Categories.
Rob Kosberg
The Association of Christian Businesses
Rob (at) TACB (dot) org
561-629-5701
http://www.facebook.com/TACB.org
http://www.tacb.org
"We Support The H.O.M.E. Foundation"
About The H.O.M.E. Foundation:
The Helping Others Means Everything, or The H.O.M.E. Foundation, is a not-for-profit organization dedicated to helping our Family of Charities. Frankie Verdugo, President of The HOME Foundation, wants to help as many worthy charities as possible as they struggle during these tough economic times. Frankie Verdugo helps raise funds through luxury dream home raffles, home giveaways, prizes, and high profile celebrity events in Hollywood... "Our mission is to help charities reach their fundraising goals and to bring awareness to their praiseworthy causes."