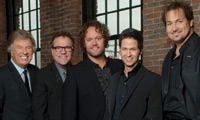 They invite you for evenings filled with inspirational music and fun entertainment.
Baltimore, MD (PRWEB) April 30, 2012
The Gaither Vocal band started in the early 1980s as four men, having fun, sang backstage before a Gaither concert. It was decided that they should sing live on that very night. The audience responded positively which has led to a legacy of excellent blends and blessed male harmony. As with all Gaither Christian Events, the purpose is to bring the gospel, a message of hope and redemption, to a hurting world. Today the Gaither Band consists of Bill Gaither, Wes Hampton, David Phelps, Michael English and Mark Lowry.
As with tradition, the Gaithers are performing during Gaither Fest Christian Events, in various cities, around the country. These events take place over multiple days and feature a line-up of artists and guest speakers.
The Gaither Vocal Band will be performing at the Fort Worth Convention Center in Fort Worth, TX. They will be joined by other gospel vocalists such as The Hoppers, The Martins, Gordon Mote, Kevin Williams and much, much, more. This concert series will take place over two days. The first part of the event starts on Friday, May 4, 2012 at 7pm. The second part is on Saturday, May 5, 2012 at 3pm. For more information, Join Us at the ChristianEventSpot.
About The ChristianEventSpot
The ChristianEventSpot is a online community for promoting, participating in, and finding Christian Events in your area. Members can post an unlimited number of events for as long as their subscription lasts. Visitors are welcome to join as well, but can view events in their local area, sign up to receive latest events by email, share events on their favorite social network, and even check the weather - all without a membership.Click Here to Join Us Today!