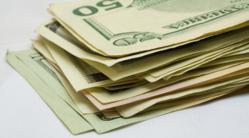 Your Money Map: A Proven 7-Step Guide to True Financial Freedom
Baltimore, MD (PRWEB) April 26, 2012
The Money Study – Multi-Week Christian Event Seminar. The purpose of this seminar is to aid individuals in getting their financial life back on track. Whether only a little fine tuning is needed, or a major course correction when it comes to money handling and management, the material presented in this seminar can help anyone improve. The focus of the seminar is on the practical steps to handle God's money in a way that will lead us on the road to financial freedom. Join the members of The ChristianEventSpot to learn more.
This Christian Event Seminar will be held during regular weekend services on Sunday. Since it is an seminar for adults, children will be required to go into their appropriate weekend service classroom. This study uses the book "Your Money Map: A Proven 7-Step Guide to True Financial Freedom". There is a small fee for supplies of $20.00.
For more information about this Christian Event and others like it, please Join Us Today at The Christian Event Spot. Take advantage of all of the site's many features including: Event Participation, Event Promotion, and Event sharing - just to name a few! We have a variety of membership options suited for different member needs.
The Money Study - Adult Seminar Starting April 29th
Meets On: Sundays
Meeting Time: 9:00 AM
Location: Lower Campus, 2nd Floor (Express Room)
Hosted by: East Lake Church Volunteer Team
About The ChristianEventSpot
The ChristianEventSpot is a online community for promoting, participating in, and finding Christian Events in your area. Members can post an unlimited number of events for as long as their subscription lasts. Visitors are welcome to join as well, but can view events in their local area, sign up to receive latest events by email, share events on their favorite social network, and even check the weather - all without a membership. Click Here to Join Us Today!