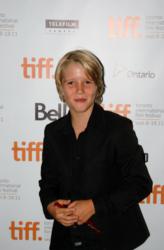 "I know I am one lucky kid, I just want to help another child who is in need feel just as special." ~ Christian Martyn
Toronto, ON (PRWEB) November 07, 2012
On November 9th, 2012, Christian Martyn will be a special guest at the premiere Talent INC Canada National Conference. In addition to educating other young hopefuls training to break into the entertainment business, Christian will be urging young people to get involved with charity work.
Martyn was raised in Oakville, Ontario and has enjoyed a number of outstanding projects having worked with Rob Lowe, Doug E. Doug, Ray Liotta, and the incomparable Christopher Lloyd, just to name a few. Those experiences according to Christian have made him appreciate what life has offered him at such an early age
Christian isn't the kind of kid not to practice what he preaches though. At a young age he asked for donations to World Vision Canada in lieu of gifts for birthday parties. Something his mother Lori said was common in their family, thanks to two great role models, Mikayla and Mack, Christian's older siblings. Mikayla, Mack and Christian foster a child through World Vision Canada and find a it to be a source of joy and inspiration for the entire family.
"It's become a family tradition that we are very proud of" said Lori.
This November he will become a full fledged official youth ambassador for World Vision Canada, and will undergo specialized training. World Vision Canada is a wide scoped ambition with projects all over the world.
Canadian research shows that those most vulnerable to poverty are children and youth living in single-parent families, new Canadian (refugee and immigrant) families and Aboriginal families. The focus of World Vision's response is therefore upon these children – particularly those living in five of Canada's largest cities: Vancouver, Winnipeg, Toronto, Hamilton and Montréal.
When you think of child stars, society quickly recalls the drama surrounding Lindsay Lohan and Gary Coleman. Christian Martyn, who is about to skyrocket with the release of Home Alone: The Holiday Heist, and Split Decision, a feature film starring Brendan Fraser, has set out to change the stigma surrounding children working in the industry.
Christian will be taking to the stage alongside his mentors, John Stevens and Doug Sloan, the owners of Talent INC Canada, to address young hopefuls about the realities of being a child actor, and to urge them to use their talents to raise awareness about the world issues around them.