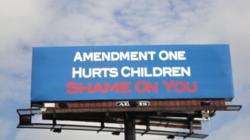 "The eyes of the world will be on Charlotte for the Democratic National Convention and we want to make clear that the issues addressed in Amendment One have not been forgotten by those that oppose the Amendment," said Christians for Common Sense
Charlotte, N.C. (PRWEB) August 29, 2012
Christians for Common Sense, an organization that opposes Amendment One, has retained Hull & Chandler, P.A. to assist them in procuring the two Anti-Amendment One billboards in Charlotte, North Carolina for the Democratic National Convention.
This year's Democratic National Convention will be in Charlotte during the week of September 3. Certainly one of the hot button issues surrounding North Carolina is the recent vote for Amendment One.
For those that may be unfamiliar, Amendment One, it is an amendment to the North Carolina Constitution that passed on the May 8, 2012, primary ballot in the State of North Carolina. The ballot defined the amendment as:
Constitutional amendment to provide that marriage between one man and one woman is the only domestic legal union that shall be valid or recognized in this State.
"The eyes of the world will be on Charlotte for the Democratic National Convention and we want to make clear that the issues addressed in Amendment One have not been forgotten by those that oppose the Amendment," said a spokesperson for Christians for Common Sense. "We are embarrassed for our state that Amendment One passed and apologize to the gay and lesbian communities of North Carolina that Amendment One has become a part of the North Carolina Constitution.
Legal experts are split as to the effect Amendment One will have on the laws of North Carolina as same sex marriage was already not recognized in this state. Some legal experts are concerned that the amendment would change domestic violence or child custody laws for all unmarried couples.
At its most benign, Amendment One has no legal effect. In any event, Amendment One is the most embarrassing marriage amendment to the North Carolina Constitution since the ban on interracial marriage in 1876.
"We find it unfortunate that Amendment One was placed on a primary ballot, where primarily Republican Party issues were at issue, as we believe the Amendment may not have received as much support on a general election ballot," said Christians for Common Sense. "We promise to support equal rights for all citizens and it is our hope that Amendment One will be repealed in the near future."
The billboards have already been up for almost a month. You can see one of them on I-485 and the other one on the Brookshire freeway, just north of I-85.