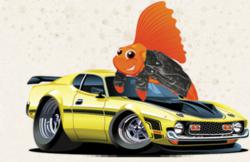 I believe that there is a much better way to handle breakups than what we're seeing with these two. It's petty.
New York, NY (PRWEB) March 29, 2012
RoadFish.com men's lifestyle and finance magazine today pointed to the public name-calling displayed by Christie Brinkley and ex-husband Peter Cook as a model for how not to behave in the midst of settling a divorce. Brinkley and Cook began filing for divorce four years ago, and this week tore into each other on national television's the "Today" show about everything from divorce settlements to how their public dispute affects their kids.
On Tuesday, model Christie Brinkley went on the "Today" show and according to the Huffington Post, Brinkley told host Matt Lauer that her ex-husband, architect Peter Cook, still owes her child support, has sent her "inflammatory" emails, and that there has been a "character assassination" of her going on. She also claimed that she alone has observed the confidentiality agreement by turning down chances to go on Oprah and Primetime to do a "sympathetic show," and states that Cook has broken the confidentiality agreement by going on shows such as Barbara Walters, Geraldo Rivera, and Good Morning America where he's discussed their divorce. She stated that she has "never taken part in name-calling,"
According to Fox News, Cook did an interview on Wednesday on the "Today" show with Savannah Guthrie. Cook called Brinkley's tears on the show the previous day "crocodile tears." Cook also claimed that Brinkley's entire interview with Lauer was dishonest, and is quoted as saying on the show, "The entire content of her interview was a lie, where she claims that I am harassing and bullying her on a daily basis… we haven't emailed each other directly in two years, so this perception that I'm harassing and bullying her is nonsense." Cook stated, "She does not want peace, she wants attention."
RoadFish.com's Senior staff writer is quoted as saying, "I understand that being famous brings with it a good amount of paparazzi following your every move, but it makes me very sad to see how Brinkley and Cook are handling the details of their divorce, especially with three teenaged kids. It seems as though they're bringing it into the public eye, not the other way around. I believe that there is a much better way to handle breakups than what we're seeing with these two. It's petty."
Christie Brinkley and Peter Cook were married in 1996 in New York and had a child together, Sailor Lee Brinkley Cook, two years later. Cook also adopted Brinkley's son, Jack Paris Taubman, whom she'd had with her former husband Richard Taubman. Jack's last name was officially changed to "Brinkley Cook." In October 2008, Brinkley and Cook divorced over Cook's admission that he'd had an affair with 18-yer-old Diana Bianchi. Brinkley and Cook settled out-of-court resulting in Brinkley paying Cook $2.1 million in exchange for full custody of their two children as well as custody of 18 Hampton properties. Their divorce was finalized in October 3rd, 2008.
RoadFish.com today gave dating advice to its readers to "act ethically" and to "listen to your new, current, or ex-partner and really duplicate what they are telling you." RoadFish.com's Senior staff writer is quoted as saying, "The best dating and marriage advice we know of is to behave in the most ethical manner as possible, and to listen closely to one another. I am absolutely positive that these two things has helped me avoid what I'm sure could have resulted in dozens of misunderstandings and disagreements. I do believe that Brinkley and Cook could take this advice to heart and apply some ethics in their own situation."
Christie Brinkley, perhaps best known for her three consecutive cover shoots for the Sports Illustrated Swimsuit Issues, has been married three other times including a marriage to musician Billy Joel, with whom she had her first child, Alexa Ray Joel. Her marriage to Peter Cook was her fourth.
About RoadFish.com
RoadFish.com is an online men's lifestyle and finance magazine targeted toward men in their 30's and 40's that have already attained a moderate level of success in life, and are striving toward more. It goes over current events of interest to this group, such things as exciting adventures, making money, consumer interests, hot chicks, and sports heroes as well as ways to make more and save more money. It is a publication owned by Purpose Inc.
###