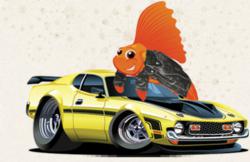 It's definitely refreshing to see stars in an understated, less-is-more look.
Los Angeles, CA (PRWEB) March 06, 2012
RoadFish.com men's lifestyle and finance magazine disapproves of the latest phone hacking scandal, where semi-nude pictures of "Mad Men's" Christina Hendricks and actress/model Olivia Munn were leaked to the internet over the weekend. Photographs include the women in various stages of undress, wearing lingerie, and a couple of nude shots that the two women have denied being theirs. RoadFish.com did compliment the women of their understated, minimal-makeup looks in the at-home photos but maintain in strong opposition to the costly hacking.
TMZ reported that Hendricks' rep told TMZ that the actress's phone had recently been hacked, and confirmed that multiple self-shots had been stolen including photographs of Hendricks scantily clad, sans make-up, in what looks like a home environment. The rep informed TMZ that the single topless/headless photograph that hit the web with Hendricks' name on it is an imposter, and not Hendricks herself. The rep told TMZ that Hendricks does not know who the hacker is, and that the proper authorities have been notified.
Sarah Anne Hughs of the Washington Post reported that Olivia Munn's rep has not released a comment about the photos. Munn tweeted, "If you ever hacked my phone, these are the photos you'd find" and tagged a picture of an lolcat and a chubby baby. TMZ reports that several of the photos are legitimate, and that Munn had previously already posted them on her own blog and/or on Twitter. TMZ stated that according to sources, the headless shots where Munn's face is cut out are fake, including the all-nude photo.
RoadFish.com's Senior staff writer is quoted saying, "I don't condone hacking, stealing, or any other sort of invasive behavior. It's such a no-no in my book, super low and sneaky. But going another angle with the leaked photos, I thought both Christina and Olivia looked just stunning with minimal makeup and without their usual Hollywood frills. It's definitely refreshing to see stars in that kind of understated, less-is-more look."
The above-mentioned Washington Post article reports that at the time is it not clear whether Christopher Chaney, who was the perpetrator in the photo hacking of actresses such as Scarlett Johannson, Mila Kunis, and Christina Aguilera, is responsible for this weekend's incidents. 35-year-old Chaney was indicted in October 2011 for stealing photos and faces up to 121 years of jail time, if convicted, on 26 charges of computer hacking, identity theft and illegal wire-tapping.
RoadFish.com stated that while they believed the invasion of privacy is a "disgusting and horrible thing to do to somebody, could you imagine two more beautiful women to have had gorgeous photos leaked to the web?"
Olivia Munn has performed as a correspondent alongside Jon Stewart in Comedy Central's "The Daily Show," and can be seen in movies such as "Iron Man 2" and "Date Night." She has also made Maxim's list of "Hot 100 Women" every year since 2008.
Tennessee-born Christina Hendricks is perhaps best known for her role as Joan Holloway in the award-winning AMC series "Mad Men," but she started her career as a model. She was nominated for a Primetime Emmy Award for Outstanding Supporting Actress in a Drama series in both 2010 and 2011 for her role on "Mad Men." Hendricks stated in 2010 that she believed the media is far too focused on women's bodies, and not focused enough on their actual talent. She said, "I was working my butt off on the show, and then all anyone was talking about was my body."
About Roadfish
RoadFish.com is an online men's lifestyle and finance magazine targeted toward men in their 30s and 40s that have already attained a moderate level of success in life, and are striving toward more. It goes over current events of interest to this group, such things as exciting adventures, consumer interests,tax tips, and dating tips, as well as ways to make more and save more money. It is a publication owned by Purpose Inc.
###