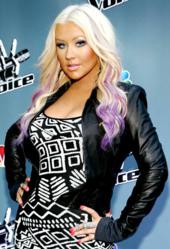 used to add coloured highlights and increase volume
(PRWEB UK) 21 August 2012
Christina Aguilera is well known for her bleach blonde locks, but like most people it looks like she got a little bored and started to experiment. Christina's hair now showcases bright purple highlights and she loves her new look.
Buyhair.co.uk have the perfect products to help people with little hairstyling skills to get the look in minutes, without using damaging hair dyes. Clip In Streaks come in both synthetic and 100% human hair options and can be easily applied with the attached clips. Simply clip back the top layer of hair, attach the streak underneath, and then release the layer to hide the clip. To get hair like Christina's, around three or four clips should be applied to each side.
Clip in streaks come in an abundance of colours, all 18 inches in length, which means that they fit perfectly into most people's hair. For those who are not quite as daring as Christina, natural coloured highlights such as blondes and browns are also available.
Like Christina, some people prefer a more permanent solution. Pre-bonded hair extensions are available in many colours, which can be applied to the hair using keratin glue or micro loops. Most people use this sort of hair extension to increase the length of their own hair, however few people realise that they can also be used to add coloured highlights and increase volume.
Click the relevant link to discover the huge range of colours available in Clip In Highlights or Pre Bonded Hair Extensions.