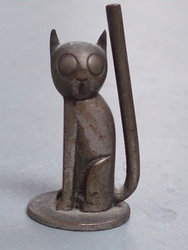 People want to know what their items are worth beyond checking online auction results. Worthpoint offers a tremendous amount of historical data from the most respected auction houses. C. Downing Auctions is pleased and proud to be joining their ranks
Reston, VA (PRWEB) February 27, 2008
WorthPoint Corporation, the premier website for art, antiques, and collectibles, announced today that C. Downing Auctions has selected WorthPoint as a data publishing partner. Under the new agreement, C. Downing will provide WorthPoint with upcoming and historical auction data to be published on the WorthPoint web site. With information provided by C. Downing, WorthPoint is now able to provide more comprehensive data than ever.
Christine Downing, owner of C. Downing Auctions, discovered Worth Point while doing research for an upcoming auction. Christine Downing notes the relevance of WorthPoint to today's antiques and collectibles market. "People want to know what their items are worth beyond checking online auction results. Worthpoint offers a tremendous amount of historical data from the most respected auction houses. C. Downing Auctions is pleased and proud to be joining their ranks," Downing said.
WorthPoint is a collector's social network and search engine rolled into one. The website is changing the process of assessing worth for collectibles by providing a vast database of sales records wherein an individual can assess the worth of their own collection. Through WorthPoint, collectors connect with experts to learn more about authenticity and value in art, antiques, and vintage items. Through the WorthPoint online community, members can contact other collectors interested in buying, selling, or swapping stories, and they can share their insight and knowledge through the forums and wikis.
http://www.worthpoint.com
C. Downing Auctions is a full service auction company specializing in quality antiques and collectibles with a personal touch. C. Downing Auctions is located in Norwalk Connecticut and is owned and operated by Christine Downing. With prompt and personal attention to every inquiry, Christine has built a reputation of providing personal, reliable and professional service to both her buyers and sellers. She is committed to upholding the highest standards of quality, integrity and professionalism.
http://www.cdowningauctions.com
####