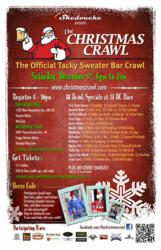 Herndon, VA (PRWEB) November 08, 2011
Grab your tacky Christmas sweater and head for the wackiest holiday event to hit Washington: the first annual "Christmas Crawl," slated for Saturday, Dec. 3, 2011.
Billed as "The Official Tacky Christmas Sweater Bar Crawl," the event will feature 13 D.C. hot spots in Dupont Circle and Foggy Bottom offering 38 drink and food specials at steeply discounted prices. And absolutely no cover charges!
The Christmas Crawl (christmascrawl.com) will run from 6 p.m. to 2 a.m., with check-in at either The Front Page Restaurant & Grille in Dupont Circle or McFadden's Restaurant and Saloon in Foggy Bottom from 6 p.m. to 10 p.m.
Christmas Crawlers will receive a wristband, plastic beer stein, and map of all participating bars and restaurants. And then the fun begins, as Crawlers make the rounds and spread holiday cheer from one pub to the next.
What to wear? Tacky Christmas sweaters, naughty sweaters, crazy holiday hats, candy cane scarves, mittens, and all other festive wear are just right for this event.
Get festive – because the Christmas Crawl will feature a midnight costume contest at McFadden's, with a prize awarded to the best-dressed Crawler.
The Christmas Crawl is sponsored by Skedouche, the leader in tacky, naughty, and lighted sweaters and accessories. To see the latest in tacky attire, or to purchase that festive (and perhaps prize-winning) holiday outfit, check out the official sponsor website at skedouche.com.
Christmas Crawl tickets are $15 in advance at christmascrawl.com and $20 at check-in (cash only). Crawlers must be at least 21 years old and must bring a valid state-issued ID and printed ticket (if purchased in advance) to check-in. And of course Crawlers should be wearing their best tacky sweater!
Participating bars and restaurants include The 51st State Tavern, DC Bread & Brew, Buffalo Billiards, The Front Page Restaurant & Grille, James Hoban's Irish Restaurant & Bar, Maddy's Bar & Grille, Madhatter, McFadden's Restaurant and Saloon, Midtown Partyplex, The Mighty Pint, Public Bar, Sign of the Whale, and Sweetspot.
For more information or to purchase tickets, go to christmascrawl.com. Check out The Christmas Crawl on Facebook at facebook.com/thechristmascrawl.
###