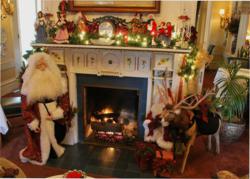 Many locals tell us that the holidays don't really start for their family until they attend a Dickens Dinner.
Healdsburg, CA (PRWEB) December 09, 2011
Madrona Manor, the celebrated Wine Country restaurant nestled in an elegant Victorian estate, continues a traditional beloved holiday celebration with the Dickens Dinner Series. The property will shine with festive decorations as families come together to experience a 5-course meal of traditional Christmas favorites and experience heartwarming songs of the period costumed carolers the Twelfth Night Singers. Dinners begin on December 11 and continue through Christmas Day.
"This series of Dickens Dinners has been happening at Madrona Manor for over 20 years," says manager Kevin West. "Many locals tell us that the holidays don't really start for their family until they attend a Dickens Dinner."
The Wine country hotel, built in 1881, will be decked out for the holidays with many unique handcrafted decorations and a 12-foot Christmas tree with 3,000 lights. The five-course dinner includes traditional dishes prepared by Madrona Manor's Michelin-Star-rated chef, Jesse Mallgren. In between courses, The Twelfth Night Singers set the mood with a capella renditions of much-loved and lesser-known carols.
The sample menu includes:
Appetizers:
Lobster "Shepherd's Pie"
Dungeness Crab Salad with Radicchio, Frisee, Estate Orange Supremes and Green Goddess Dressing
Celeriac-Potato Soup with Apple wood Smoked Bacon and Parsley
Entrée – Choice of:
Lemon "Scented" Sole with Butternut Squash Puree, Spinach and Lobster Essence
OR
Beef Wellington with Mashed Potatoes, Broccolini and Red Wine Reduction
Dessert:
Christmas Pudding with Walnut Praline and Brandy Cream
Vegetarian options are available. Choices are subject to change, depending on availability of ingredients.
Starting on December 11, Dickens Dinners will be held at the Sonoma fine dining restaurant every evening, except Monday and Tuesday, at 6:30 PM, with the bar opening at 5:30 PM. There will be a matinee dinner on Christmas Day at 1:30 PM. Prices range from $85 to $125 per person. Prices include a five-course menu and entertainment for the evening. Tax, service and beverage are additional; a 20% service charge will be added to all bills. The Sonoma luxury hotel is also offering special room rates to Dickens Dinner attendees.
The popular event fills up quickly, so interested parties are encouraged to make reservations well in advance.
Dickens Dinners fill guests with the holiday spirit of a true Victorian Christmas celebration. As Charles Dickens himself put it, "Happy, happy Christmas, that can win us back to the delusions of our childhood days, recall to the old man the pleasures of his youth, and transport the traveler back to his own fireside and quiet home!"
For more information about Madrona Manor, call them at (866) 319-8212 or visit them on the web at http://www.madronamanor.com.
About Madrona Manor
Nestled in the hills above the Dry Creek Valley of Sonoma County, Madrona Manor is an exceptionally lovely Victorian estate surrounded by eight acres of wooded and landscaped grounds. The Mansion, built in 1881, has been a destination for discerning guests seeking a stay in the gracious wine country of northern California since 1981. Whether visitors come to get away from it all, or to reconnect with friends and loved ones, Madrona Manor is one of the finest locations for an out-of-town weekend, party, executive retreat, or wedding in Napa or Sonoma Counties.
Visitors are invited to enjoy a romantic meal in the acclaimed Sonoma restaurant, engage in quiet conversation with drinks on the veranda, or relax by a cozy fire in the winter or the pool in the summer. At the end of the day, a peaceful night's stay awaits guests staying in any of the elegant rooms.
# # #