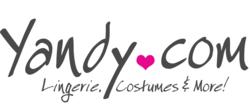 PHOENIX, Ariz. (PRWEB) November 13, 2012
The holiday season is quickly approaching and at Yandy.com, online retailer of women's apparel, shoppers can find just the right Christmas dress for all of those upcoming parties and celebrations. While Yandy is known for offering a wide variety of costumes and lingerie, there are plenty more festive items that stock the web site's shelves during the holidays.
Yandy's collection of sexy Christmas dresses boasts more than 100 stylish options. Popular choices, like the blinged out babydoll which features a halter neck and silver sequin detail and the shimmer foil halter dress, are not only fashion forward but affordable starting at $31.95. Another popular choice for a more elegant affair is the red satin, long V neck gown with a ruched bodice and metallic embellished halter neck ties for $41.95.
In addition to more traditional dress options, Yandy also offers several sexy Santa dresses for those looking to add a little extra cheer to their next event. Dresses like the mini Ms. Claus dress features a red velvet fabric, halter silhouette, belt and Santa hat and the Christmas mini dress with plush white trim and low cut neckline are popular choices at Yandy for the holidays.
Not only are there so many options to choose from when shopping for a sexy Christmas dress at Yandy.com but every shopper also receives free, flat rate shipping on orders over $70 as well as a free panty with every order.
About Yandy.com
E-commerce is on the rise and Yandy.com is one of the largest online retailers of lingerie, sexy Halloween costumes, swimwear and clothing on the web. Founded in 2003, Yandy boasts more than 6,500 products always in stock at easily affordable prices. Yandy ensures that every customer will receive a safe, secure and private online shopping experience and is backed by COMODO online security and Google Checkout. Yandy is dedicated to customer service and only sells what is in stock which allows for quick, same day shipping. Offering the highest quality products at the most affordable prices in the market, Yandy has become a leader in e-commerce. Yandy works closely with all of the manufacturers they distribute for and hand select all of the items on the Web site to ensure customers have the largest and most diverse collection to choose from. In addition, the customer service team at Yandy is unrivaled. With attentive and helpful operators, should a question or problem arise, the customer service team at Yandy is always willing and able to assist. At Yandy, every customer can Be Sexy.
###