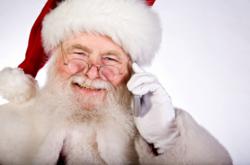 Jupiter, FL (PRWEB) December 24, 2011
Christmas Eve is finally here and the Jupiter, Florida business, DialMyCalls, is sending out a last minute Christmas gift in the form of free Santa Calls. Kids all around the world are busy using Santa trackers as they eagerly await the special delivery of presents under their tree. Parents that are living in the United States or Canada can give children a special gift before they open presents on Christmas morning – a personalized greeting from one of Christmas's favorite characters, Santa Claus!
"Anticipation has reached its peak by millions of children all around the world and we want to add to that excitement with our last minute calls from Santa Claus," says owner David Batchelor. "While kids are busy with their eyes glued on Santa trackers, parents can send them a free call from Santa, direct from the North Pole – they will love it!"
This Christmas Eve amidst all of the crazy last minute Christmas shopping, parents have the ability to send children free Santa Calls. Nothing says "Merry Christmas" like a personalized greeting, direct from the North Pole – over six thousand calls have been sent out in two weeks!
Give a last minute Christmas gift to children in the United States and Canada by sending a free, personalized greeting from Christmas's favorite character, Santa Claus! The ability to send free Santa Calls will last until Christmas day, December 25, 2011 at 3PM EST – don't miss out on the fun!
About DialMyCalls
DialMyCalls.com has been in the voice broadcasting industry since 2006 and the company continues to improve its services by adding new and exciting features regularly. Satisfying every single customer is their goal as they make mass notifications easy enough for everyone to use. During the Christmas holiday this year, the company decided to send out free Santa Calls to everyone in the United States and Canada – the turnout has been amazing!
For more information, please visit http://www.dialmycalls.com or call 800.928.2086. You can also email tims(at)ontimetelecom(dot)com for additional information.
# # #