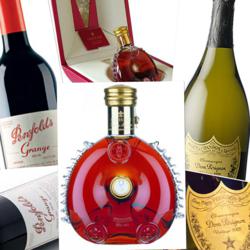 We've had a lot of fun creating the hamper, although we realise that it isn't going to be on most people's Christmas shopping list!
Melbourne, Australia (PRWEB) September 11, 2012
It's becoming increasingly difficult to come up with unique and treasured gifts for loved ones, with the availability of cheap overseas goods and the lack of exclusiveness inherent in Internet shopping. The words 'luxury' and 'extravagance' are often bandied about in overblown product descriptions, but Australian Gourmet Gifts has decided to be true to the spirit of those words in creating the new 'Supreme Extravagance Hamper', priced at $6,990.
Australian Gourmet Gifts have broken records with their new Supreme Extravagance Hamper which clocks in at Australia's most expensive and luxurious hamper at $6,990.
The gourmet hamper contains:

A $2000 Crown Towers Gift Voucher: which can be exchanged for an equivalent hotel voucher for any city in Australia
Remy Martin Louis XIII cognac: Blended from over 1200 fruit brandies and aged for up to 100 years in oak barrels
Penfolds Grange 2006: Australian wine royalty
Dom Perignon Champagne 2003: The world's best known luxury champagne
Ogilvie Truffle Pack: Containing truffle oil, truffle salt and truffle mustard
Gourmet tapenade and pesto combo
Talinga Grove picnic pack
Ogilvie Antipasto pack
A selection of the most carefully blended chocolates, chocolate truffles and sauces
Australian Gourmet Gifts owner, Theo Ananiadis, said of the hamper's release "We've had a lot of fun creating the hamper, although we realise that it isn't going to be on most people's Christmas shopping list!".
"While we aren't expecting this product to make us rich, it could make a very enriching gift for somebody at their birthday or Christmas", Mr Ananiadis continued.
"Imagine the message that sends – 'You deserve to have the rarest, most luxurious and delectable gourmet hamper in the country. You are so special that you need to have an utterly unique gift", Mr Ananiadis concluded.
The company believes that Australia's most expensive gourmet hamper will be far more usable and broadly appreciated than the world's other most expensive meals, including gold-dusted cupcakes costing just under $1000 each or the $7,120 cocktail sold at Dubai's Burj Al Arab hotel. "At least the Supreme Extravagance items are recognised the world over as the best in their classes", said Mr Ananiadis.
Famously, the 'I Am Rich' iPhone App, a simple picture of a glowing red gem priced at the top possible dollar on the app store, sold eight copies before being removed from the market a day after its release.
"We know that status is important to people, and we know that it confers real confidence and self-esteem. We've packaged that up into gift form, with a lot more value and substance, and the selflessness of giving rather than receiving" Mr Ananiadis concluded.
About Australian Gourmet Gifts
Australian Gourmet Gifts offers high quality gift hampers at the best possible prices, therefore creating optimal value for its customers!
Australian Gourmet Gifts offer a wide selection of beautiful Gift Hampers created with elegance, prestige and value in mind. They have a focus on delicious and utterly divine foods, Wine's and Australian treats, from the best quality brand's such as Maggie Beer, Chocolatier and Random Harvest. The Gift Hampers are elegant, yet affordable, and are great as gifts as Christmas hampers, for Corporate Events, Birthday's, Valentines Day or for any other special occasion and celebration.
All Gift Hampers are beautifully presented in the Australian Gourmet Gifts custom made premium hamper gift box, which is amongst the highest quality gift boxes in Australia. It will definitely impress and will most likely be kept by the recipients, also reminding them of your beautiful gift.
Hampers can be delivered Australia-wide at a Capped Shipping Rate of $15.00, with delivery times as short as Next Day.