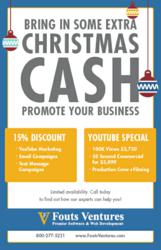 Fouts Ventures uses a trusted combination of direct mail, in-person meetings and social media marketing strategies.
Los Angeles, CA (PRWEB) December 07, 2012
This Christmas season, Fouts Ventures, a premier web and software development company, is helping a variety of businesses promote their holiday specials. Fouts Ventures is offering marketing packages for Youtube, text, and email campaigns and is promoting this by launching a campaign of its own. The three-pronged campaign utilizes a trusted combination of direct mail, in-person meetings and social media.
Fouts Ventures designers identified two major client groups; small business owners and medical/legal professionals. A series of flyers was developed geared toward each group's goals. The small business owners receive an eye-catching flyer that focuses on the immediate financial benefits of holiday marketing campaigns. It uses brief, to-the-point language and lists holiday discounts. These flyers are delivered via mail, using a USPS bulk mail delivery service.
Another group, medical and legal professionals, receive promotional material focused on the long-term benefits of engaging new clients and brand distinguishment. Medical and legal establishments are visited in-person by Fouts Ventures sales representatives to discuss the growth potential offered by a holiday marketing campaign.
In addition to direct mail and in-person sales, Fouts Ventures relies on social media marketing to advertise the Christmas specials. A reliable combination of social networks, press releases, and email blasts reaches more people than mail and in-person marketing combined. Additionally, it helps maintain a connection and dialog with regular clientele.
Fouts Ventures offers a range of services including web development, software development, press marketing and social media marketing. With nearly half a million Twitter followers, Fouts Ventures can help increase a business' visibility. Fouts Ventures helps businesses build their clientele using strategic planning, website and software development, social media marketing, and helps businesses monitor their progress and create leads.
Christmas Marketing and distribution by Fouts Ventures, http://www.foutsventures.com 1-800-277-5221. Questions or comments about this press release contact the Fouts Ventures Editorial Staff