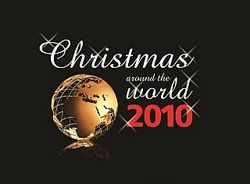 Christmas Around the World 2010 - Themed Christmas Parties: ChristmasCorporation.co.uk
(PRWEB) May 27, 2010
In 2009, Christmas Corporation created one of the biggest and most successful corporate Christmas parties in Birmingham. James Tennant from Movecorp LTD, an international removal company, stated that it was "one of the best organised corporate events" he had attended last year. Similarly, the successful West Midlands based media company, LF Media, commented that "the whole evening from start to finish was thoroughly enjoyable".
Now with plans to expand, they will be bringing their shared parties to Windsor and Solihull. Their success is partly due to their focus on bringing extensive and high class entertainment to their clientele, as well as their choice of prestigious venues and top class caterers.
With the fun theme of a New York Funfair, aptly named "Christmas Around the World 2010", and world famous entertainers on the stage, this year's Christmas Corporation corporate party is expected to be as a big as success as last year. This year, however, Christmas Corporation has gone even further to provide top class entertainment all evening long, as they have hired a number of renowned global entertainers. Upon the stage, expect to see the likes of the legendary Jack Valentine, the famous Frank Sinatra impersonator who has played at exclusive and prestigious venues all over the U.K, including the fashionable Savoy Hotel, London. Captivating and charismatic, Jack Valentine has wooed many women with his smooth voice, and has even sung to Sir Richard Branson and the Mile High Club during 2002's flight from London to New York.
Also on the itinerary is the professional and global dance troupe, Celtic Feet. Already, they have performed to royalty, Sir Richard Branson, and have had a European sellout tour. This year, they will be bringing their mesmerizing dances to the Christmas Corporation stage in the UK for all of their shared Christmas party events.
The entertainment does not stop there either - as Christmas Corporation uniquely offer exclusive and diverse entertainment throughout the entire party. This year expect to be greeted by a traditional and local choir, dance to music provided by the best local Radio DJ's around and be entertained by their dancers, the Funki Feathers. As well as this, the New York funfair will provide entertainment all night long, with fun games and rides, such as hook a duck, hoopla, the dodgems, twister and Miami trip!
This year, not only is the Christmas Corporation expanding their parties to other venues and perfecting their exclusive entertainment packages, they are devoting their time to raising funds for their selected charity, the NSPCC. Christmas Corporation aims to raise funds not only on the Christmas party's nights, from the proceeds of the games and the raffle, but also by completing and encouraging other corporations to complete this year's Hike Against Cruelty to Kids (HACK) in the Malvern Hills, Worcestershire. They are exclusively offering to the corporation who completes the walk and raises the most funds, the prize of a free table at one of their exclusive venues.
For more information on Corporate Christmas parties for 2010 created and organised by the Christmas Corporation, please contact Christmas Corporation on 08456 434 312, or visit their website at christmascorporation.co.uk.
About Christmas Corporation
Christmas Corporation is a UK based professional party organiser, who organises corporate Christmas parties, proms, corporate events, weddings and conferences. With over twenty years experience in the industry, Christmas Corporation really knows how to entertain their clientele. They bring to their clients a wide breadth of entertainment at exclusive venues around the UK.
###