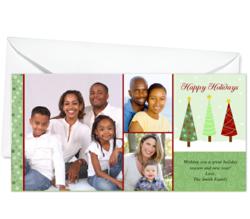 We have a large array of fun, decorative photo card designs within our templates.
San Francisco, CA (PRWEB) November 25, 2012
Sure, photo cards are available just about everywhere. Making the trip to a local store to order and print holiday cards may not always be the best option for everyone. Often by doing it the traditional way, the end result is not always satisfactory.
Now anyone can create photo cards for the holidays with very little effort. Thanks for the Celebrations of Life Store, templates are now available for immediate download complete with predesigned festive backgrounds. Not only can a customer personalized the text but buyers are also able to insert a special photo of choice, all from the comfort of the home computer.
The photo card templates are printed on demand and can be used year after year, if desired. The customer has many choices on where to get the cards printed and on what kind of paper. There is no middleman with these template files and are proven to be cost and time effective.
"We have a large array of fun, decorative photo card designs within our templates. You are able to customize them very easily within minutes and print them as you need them. It is certainly a great time saving option for everyone", shares Carole Galassi, Creative Director and founder of The Celebrations of Life Store.
The holiday photo cards are available in the standard sizes offered in 5" x 7", 4" x 8", and 5.25" x 5.25" dimensions. Selections are made by each customer. The weight and style of paper is generally white card stock however, customers can choose to print it on a photo style paper as well.
Other printing options are taking or emailing the completed template card to a local printer or office supply store or using the Celebrations of Life Store professional printing service. The template file contains two photo cards per sheet of letter size paper so customers will not need to print as many cards since it is provided in increments of two.
You don't have to be a do-it-yourselfer to enjoy this product. It created for the busy individual and for those who are looking for more variety in designs for the specific holiday event.
"We purchased and downloaded a holiday photo card to create our company's annual holiday party. It was fantastic and so easy to use, I could hardly believe that within a few minutes, I had professional looking invites at my fingertips! Just WOW!", shares Tina of StaffOne, Inc.
Whether it's photo cards or holiday party invitations, this product is worth investigating. Full customer support is provided for every purchase and the company also has a livechat 7 days a week for those who may have additional questions before purchasing. The company's website can be accessed on http://www.CelebrationsOfLifeStore.com.