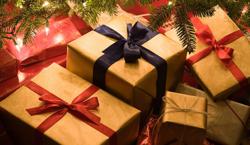 Top Christmas Presents For Boyfriends 2012 @ Paramountzone.com
(PRWEB UK) 28 November 2012
It has never been easier to find amazing Christmas presents for men, even those men that seem to have everything. Thanks to Paramount Zone one can now find all sorts of unique, fun and even quirky gift ideas that men will love. Christmas present shopping can cause headaches and stress, especially for those doing their Christmas gift shopping on the high street. This is where Paramount Zone comes in. It is possible to find the coolest must have Christmas presents for boyfriends and other deserving men from the sanctuary of ones home.
On the Paramount Zone website there are an abundance of gift ideas that will fit the bill in 2012. There are a number of gadgets that are proving to be massive hits this year including the incredible Lightspeed Helicopter, the Sunrise Alarm Clock, Walkie Talkie Watches and the power saving Solar Phone Chargers. There are also plenty of gifts for other friends and family members including affordable stocking fillers, executive gifts and experience days.
All of the gifts on the website include an in-depth description informing you what the gadget is able to do, any information regarding what's included in the box and useful tit bits of advices regarding addition requirements, such as downloading a free app or purchasing batteries if not included. Many of the listings have customer reviews allowing customers a chance to see how well the present has been received. The presents can all be delivered in the shortest time possible, with next day delivery a possibility.
Here is the top 10 list of presents for men for Christmas 2012 according to Paramountzone.com
1. iPhone Controlled Mini Helicopter
2. Magic Cube Magnets
3. iHat Mp3 Music Hat
4. Touch Screen Smart Gloves
5. Micro Quadcopter
6. Keyring Keyfinder
7. Wireless Weather Station
8. Petrol Guage Mug
9. Solar Boost Phone Charger
10. USB Cup Warmer
For all the latest cool must have gadgets to buy the men in ones life this Christmas, Paramount Zone should be a very first port of call. There are plenty of amazing deals to be found and an abundance of gifts to ensure you find something for all types of men. With fast shipping, low prices and gadgets not available anywhere else, one can find the ideal presents for any budget. Christmas gifts from a couple of pounds or a few thousands are all available on the website.
Check out the latest additions to the Paramount Zone by visiting the website: http://www.paramountzone.com.
About Paramount Zone Ltd
Located in the UK, Paramount Zone was started 10 years ago by founder James Morris. Gifts are shipped worldwide, from their fulfilment centre in Horsham, West Sussex.
For any PR enquiries, please phone or email the company via the contact page on the website.