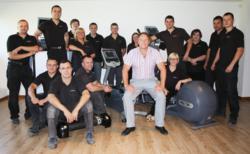 (PRWEB UK) 27 November 2012
Great news –Gymkit UK Christmas Home Gym sale is now on with up to a 39% discount. That's over £900 in savings on many items! These offers are only available online through GymkitUK.com. Don't waste time queuing in early-morning lines this season – get High Quality, Home Gym Equipment through their website, all while in the comfort of your own home.
About the Christmas Sale
The Christmas rush has already begun, with people clamoring to grab orders and make a list of stores to visit and things to buy. But why join the lines and crowds on such an early morning? Instead, head over to GymkitUK.com – they have sales that can be seen without even leaving the house. And for any exercise enthusiasts, the sales at their website will be very exciting.
Gymkit UK are offering fantastic discounts this Christmas for a variety of Home Gym Equipment. With savings of up to 60% on some brands, which can mean hundreds if not thousands of pounds off the original price. If you have been planning to buy a home gym for yourself or a loved one, now would be the time to do it. Everything from dumbbells and kettlebells, to larger gym equipment such as exercise benches and accessories, Gymkit UK will have it on sale.
To see the sales, go to GymkitUK.com or click here for the complete list.
One Brand that is featured in the Gymkit UK Christmas Sale is Precor.
About Precor gym equipment
Precor offer premium exercise equipment for both commercial and home use. They have been a trusted name in gym equipment for almost three decades, with millions of products sold nationwide. At Precor, their vision is: "To be the world's most recognized and respected brand in health and fitness". Their machines are powerful and effective, used to help increase muscle strength, as well as keeping the users fit and healthy.
They have a wide range of products in their line such as treadmills, ellipticals, exercise bikes ,weight benches and cross trainers for sale. Precor can cover all exercise needs.
According to the company, they've driven fitness forward with a passionate focus on ergonomic motion, proven science, and superior engineering."