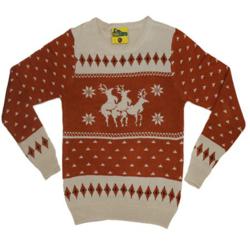 We make sure each Christmas product we sell is well thought out, well designed, and compliments our entire product line. Our goal here is not quantity, but quality.
Los Angeles, California (PRWEB) October 25, 2011
Tipsy Elves, the Christmas sweater superstore, unveiled its collection of twenty four funny and unique Christmas sweaters, Santa hats and other Christmas accessories for the upcoming holiday season. The company has already experienced an overwhelmingly positive response to its products, with major retailers picking up its ugly Christmas sweaters and sales on its retail website months before Christmas. Evan Mendelsohn, a co-founder of the company, mentioned that they are also engaged in talks with a new television sitcom to feature its sweaters.
Tipsy Elves was started earlier this year by college friends, Mendelsohn and Nick Morton. Unlike other Christmas stores, Tipsy Elves prides itself on its unique and well-crafted collection of Christmas sweaters and accessories. "We aren't trying to be everything to everyone," remarked Mendelsohn. He added, "We make sure each Christmas product we sell is well thought out, well designed, and compliments our entire product line. Our goal here is not quantity, but quality."
Tipsy Elves plans to benefit from the growing "ugly Christmas sweater" trend, which has revived the Christmas sweater craze from the eighties. Ugly Christmas sweater parties are now commonplace among teens, college students, adults and corporations alike. Tipsy Elves' sweaters aren't exactly ugly but most of their designs have a humorous twist - a factor that especially appeals to "ugly Christmas sweater" attendees looking to get a laugh out of fellow party-goers.
Tipsy Elves offers two Christmas sweater lines, the "Naughty" and the "Nice." The Naughty line features reindeer pairs and reindeer threesomes engaging in seasonal mating rituals (need we say more), while the Nice line features a bucktoothed Rudolph sweater and Elf Sweater among other funny designs. With sizes ranging from extra small to extra extra large, Tipsy Elves caters to people of all sizes, from young children to well fed adults.
While its sweaters are its hallmark products, Tipsy Elves' accessories will also make some waves this holiday season. Tipsy Elves offers twelve accessories. Most of these accessories, such as the Reindeer Animal Hat, Christmas Bomber Hat, "Believe" Fanny Pack and the Santa Bottle Coozie are designed by Tipsy Elves and offered exclusively on its website and other retail outlets.
Mendelsohn and Morton said that customers visiting the Tipsy Elves website looking primarily for sweaters are pleasantly surprised by its wide selection of Santa hats and other complimentary accessories. "We really tried to raise the bar with our accessory selection," stated Mendelsohn. "It's too easy to sell junky, generic Christmas accessories, and we weren't going to settle for this approach," he added.
The Christmas hats have garnered serious attention in the pre-Christmas season. The Reindeer Animal Hat, which features plush brown fur, adorable antlers and attached mittens, has to be the most versatile of the Tipsy Elves accessories. It will be seen on the ski slopes, at ugly Christmas sweater parties and even in posh Hollywood scenes this season.
Outfitting customers is not the only good service Tipsy Elves is doing this year. Tipsy elves also has a very generous sweater donation program, called "Sweaters for Sweaters." Tipsy Elves will use a portion of the proceeds from every sweater sold on its website to donate sweaters to children in need throughout the United States.
With laugh-inducing sweater designs, an array of creative Christmas accessories, and a generous donation program, Tipsy Elves sets the bar as the leading online Christmas store.
NOTE TO EDITORS: For interviews, sample requests and other inquiries, please see the contact information above or visit the Tipsy Elves website.
###