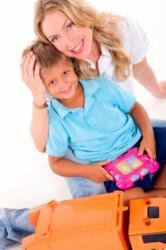 ThoseTechGuys.com have put together a list of the top toys requested this season by boys and girls.
New York, New York (PRWEB) December 06, 2012
Christmas toys for kids under $25 can be difficult to find through some retailers. ThoseTechGuys.com have put together a list of the top toys requested this season by boys and girls in this price range. This review has been published online and includes how one retailer is discounting toys by 40 percent or more to entice online shopping.
Video game branding is one thing that has remained consistent year after year with popular toys. The Halo game series helped to produce mullions of units sold of games and merchandise. The Mega Bloks company from Canada offers many of the Halo branded toys for children. One commonly requested toy for the 2012 season is the Covenant Banshee.
This ground support aircraft includes one soldier in its packaged configuration. This 8 and up toy is one that is popular with many boys and some girls that know the Halo series. Those Tech Guys found this toy selling for 36 percent off online.
The Angry Birds application has sold millions and many more have downloaded free versions of this game. One of the mascots of this gaming system has been turned into a plush toy for the holidays. This new toy is marketed to the 5 and under age group although it can be requested by older children.
This Angry Birds plush toy includes sounds from the application that are recognizable. This 8-inch toy is made from non-allergenic materials to ensure that it is safe for children to use. Those Tech Guys found this new plush toy selling for 50 percent off online.
Model railroading toys were first created in the 1920s and have remained in use in the 21st century. The Thomas & Friends company is one of the most recognizable brands in the world. The success of the Thomas the Tank series has helped this model railroad company to produce one of the most in demand train sets for children. 
Thomas & Friends: Take-n-Play The Great Quarry Climb is a complete train set selling for 25 percent off the list price. This wood train set comes complete and ready for assembly into any bedroom or play area for a child ages 2 to 10.
The new $25 and under toy guide and price review is expected to remain updated as new toys are added or deleted from this list based on availability. Parents that are searching for gifts for children could benefit from knowing where to find the lowest prices online during the Christmas season and beyond.
About ThoseTechGuys.com
ThoseTechGuys.com started its product review and consumer reviews website in 2010. In the last 2 years, this technology company has grown into one of the most respected authorities online for consumer information. A team of writers and editors assemble the news to present online at the ThoseTechGuys.com website. By examining toys, electronics and other consumer items, these experts are able to provide up to the minute pricing and stock information from some of the largest retailers online. A new website design plan is underway at http://www.thosetechguys.com