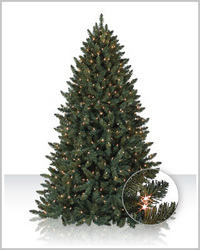 Our artificial Christmas trees sale begins as consumers start thinking about post-Christmas sales.
Beaverton, OR (PRWEB) December 21, 2009
Christmas spirit is up, but Christmas spending is down. Christmas Tree Market, a leading online retailer of pre lit Christmas trees, is getting a head-start on post-Christmas sales by hosting an artificial Christmas trees sale starting on December 21st.
Most retailers are bemoaning a lack of spending, and rightfully so. A Gallup Research poll published on December 15 says that self-reported consumer spending is down 22% from last year's comparable, from $94 to $73, for that week. While Gallup labels consumer spending as anemic, Christmas Tree Market believes a little preparation can save sales.
"We anticipated spending to be down in 2009 and adjusted accordingly," says Topher Ball, spokesman for Christmas Tree Market. "As a result, we're seeing stronger sales, and we stay ahead of the game. Our artificial Christmas trees sale begins as consumers start thinking about post-Christmas sales. While using the internet to conduct pre-sale shopping research, they'll see that our high-quality Christmas trees are already on sale at post-Christmas prices."
This "get'em first" mentality has worked in the past. Their actions are in line with the Gallup poll, which stated that this year many retailers had better inventory control, but as always they want to unload goods as December 25 approaches, thus giving consumers better buying opportunities.
"As far as we know, most of our competitors are not offering the same deep discounts that we are at the same time we are," says Mr. Ball.
People watching their live Christmas trees droop and dry out can benefit from purchasing artificial pre-lit Christmas trees. Artificial Christmas trees typically last from five to ten years, making them cost-effective. Their sales consistently rise because they are easy to maintain and set up. An industry study states that as of 2007, 57% of American homes have an artificial Christmas tree. Christmas Tree Market customers can expect to find high-quality and life-like pre-lit Christmas trees at steeply discounted prices, making an investment in a Christmas tree worthwhile.
For more information, please visit http://www.christmastreemarket.com
About Christmas Tree Market:
ChristmasTreeMarket.com is an online retailer of quality discount artificial Christmas trees, wreathes, and garlands. They are known for their wide variety of easy-to-set-up, traditional and non-traditional trees.
###