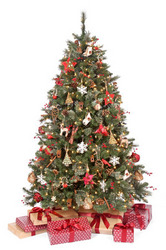 We've received so many wonderful responses in the last few weeks after launching reviews on the site from excited customers who want to share their opinions.
South San Francisco, CA (PRWEB) December 7, 2009
Treetopia, the leading online retailer of green and colorful artificial Christmas trees, announces the first-time release of product reviews on its website.
"Our trees are unique and of the highest quality, and our customers appreciate this," says company spokeswoman Carrie Chen. "We are pleased that they're enthusiastic about showing their appreciation for the trees."
The general consensus amongst customers is that the trees are budget-friendly, easy to set up, and unique. Customer can submit photos in addition to their reviews. The reviews are showing that customers use the colorful Christmas trees in a variety of ways from expressing their individuality to accessorizing events. The pink Christmas tree, for example, has been used to exhibit Barbie doll ornament collections and to promote breast cancer awareness for fundraising programs. Customer favorites include Tuxedo Black, Winter White, and Bedford Falls Fir.
"We consistently receive positive feedback from our customers, especially for the more funky products, like the artificial palm trees," Ms. Chen says. "We've received so many wonderful responses in the last few weeks after launching reviews on the site from excited customers who want to share their opinions."
The number of satisfied customers is growing, largely in thanks to the large proportion of nontraditional Christmas trees on the site. Many customers are drawn to trees like the lighted artificial palm trees. Treetopia has found that reviews for the Catalina Breeze Palm Tree tend to come from owners in drier and balmier climates, where palm trees proliferate. This lends more realism to their Christmas, as opposed to using a non-native tree, such as a Balsam Fir.
Treetopia makes it easy for tree owners to write a review. Customers rate their Christmas tree within four categories: pros, cons, best uses, and overall rating. Ms. Chen says that this system allows Treetopia to better understand consumer needs and adjust accordingly. "Customer satisfaction is our top priority," she states, "and we want customers to always be satisfied with the style and quality of our artificial Christmas trees."
Most customers describe themselves as quality-oriented and their satisfaction with the quality of Treetopia's trees is evident; some customers are uploading photos along with their review. This allows others to view the trees 'live' and promote what Ms. Chen calls "a sense of community within Treetopia."
For more information or to buy a tree, please visit http://www.treetopia.com
About Treetopia
Treetopia.com is an online store featuring a diverse selection of artificial Christmas trees. Featuring traditional artificial Christmas trees, white artificial Christmas trees, black artificial Christmas trees, pink artificial Christmas trees, silver artificial Christmas trees, lime green artificial Christmas trees, purple artificial Christmas trees, upside-down artificial Christmas trees, lighted palm trees, trimmings, tree skirts and decorations , Treetopia has something for everyone. They sell exclusively online.
###