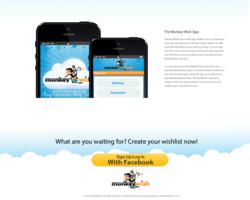 The new application available is helping to remove all of the work for those that want to register gifts this season.
San Francisco, California (PRWEB) December 10, 2012
Gift registries online often include ones setup for birthdays, weddings and other occasions that are important to men and women. A holiday list can be prepared much faster and easier using a new application available for Android and iPhone smartphone users. The MonkeyWish.com website is offering a downloadable app that makes it easy to create a Christmas wish list to share with friends, family or co-workers.
A traditional way to register for gifts includes a manual entry of items that are requested. A person that enters this data must include the pricing, inventory, specific stores for purchase and other identifiable information. The new application available is helping to remove all of the work for those that want to register gifts this season.
A simple snapshot of a barcode online or offline is all that is required to enter into the database. Price and other information is added automatically and can be syndicated to a network of other users to help inform in an inconspicuous way what requests have been added.
This new sharing feature has been created strictly for the holiday season. A smartphone user can now share a list, review a friend's list or invite someone to a specific list that is open to the public. This new virtual registry process is designed to help more people with a wish list have a list fulfilled by friends, family, co-workers and anonymous people.
Men and women that are last minute Christmas shoppers could find success depending on what website or brick and mortar store that they decide to shop. Many retailers reduce stock levels during the season and do not replenish the inventory until after the first of the year according to retail estimates. The new MonkeyWish.com app is helping to expedite the process of knowing what to buy someone that has shared a virtual list.
One of the unique things about this new registry application is that there is no cost to use this service. Unlike paid programs that are available, the creation of this technological advancement is focused on giving rather than receiving. According to the company owner, a percentage of the income received from company development is scheduled to be donated to the Tim Tebow Foundation to help promote giving during all times of the year.
About Monkey Wish
The Monkey Wish website and application were conceived and launched by Kristi Hawley Taylor in 2012. This helpful technological advancement is designed to simply the gift giving process for men and women. This no cost smartphone app can be downloaded and used instantly from any iPhone or Android compatible phone. The Monkey Wish registry allows the virtual creation and sharing of gift lists for the holiday season as well as special occasions that are important to men and women. This application is expected to grow in 2013.