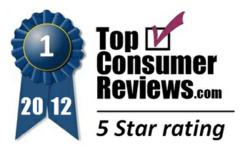 We're pleased to receive TopConsumerReviews.com's highest rating... Thank you for recognizing our efforts!
Overland Park, KS (PRWEB) May 01, 2012
TopConsumerReviews.com recently awarded their highest five-star rating to Storkie, an industry leader in Christmas Card companies.
"We're pleased to receive TopConsumerReviews.com's highest rating," said David Gudai, Vice President of Marketing at Storkie. "Our vision has been to create a new type of stationery experience. In addition to the best Christmas card templates in a huge array for styles and themes, you'll also find the finest quality of cards available. Choose the font, color, graphics, text, and more to create a card that you can be proud of. Superfast turnaround, digital proofing and our top-notch customer service team complete your experience at Storkie. Thank you for recognizing our efforts!"
Traditional boxed Christmas cards found at the grocery store or gift shop have run their course. For a new, different, and fun experience, more people than ever are turning to the internet to find and personalize Christmas cards that represent their own unique style. Online card companies provide numerous Christmas card choices that are both innovative and distinctive. Personalization options such as pictures, texts, colors, and templates mean lackluster Christmas cards are a thing of the past.
"Storkie offers the best selection of Christmas cards available," explained Brian Dolezal, of TopConsumerReviews.com. "You can choose from an abundant selection of Christmas cards that are fun, unique and beautiful. They offer high quality Christmas cards you can be proud of with a large number of personalization options. Combined with fair pricing and excellent customer service, Storkie earns our highest rating."
To find out more about Storkie and other Christmas card companies, including reviews and comparison rankings, please visit the Christmas Cards category of TopConsumerReviews.com at http://www.topconsumerreviews.com/christmas-cards/.
About Storkie
At Storkie Express we are committed to innovation, and continue to lead the industry in customization capabilities. From the first Storkie website in 1999 to the Storkie of today, we are dedicated to providing a unique technology platform, enabling robust and easy personalization! Our exclusive iDesign tool allows full control over wording, fonts, colors, layout and more. Our "Dynamic Designs" allow for unprecedented design creation for real-time customization of color combinations and graphics. The result is unique stationery to match your special style!
About TopConsumerReviews.com
TopConsumerReviews.com is a leading provider of independent reviews and rankings of hundreds of consumer products and services. From credit cards and elliptical machines, to mortgage refinance and payday loans, TopConsumerReviews.com delivers in-depth product evaluations in order to make purchasing decisions easier.