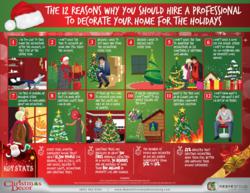 Emergency rooms treat more than 12,500 people every year for injuries related to holiday decorations.
Wappingers Falls, NY (PRWEB) October 14, 2012
In 2011, the number of American households that decorated their homes for Christmas jumped from 56 percent to 71 percent — almost three-quarters of the population! But with more homeowners than ever hauling out the holly and decking their halls for the holidays, that means more risk of injuries, fires and property damage.
Emergency rooms treat more than 12,500 people every year for injuries related to holiday decorations! And few can forget the infamous scene in "National Lampoon's Christmas Vacation" when Uncle Eddie's cigar transforms a dried-up Christmas tree into a towering inferno. Despite the exaggerated comedy of that scene, Christmas tree fires are not uncommon — and it's a fear that many homeowners mention when weighing whether to do their own holiday decorations or hire professional Christmas decorators to do it.
With just months until Christmas, that decision is looming closer and closer. A new infographic from Neave Holiday Decorating outlines 12 compelling reasons to hire a professional this year to decorate your home for the holidays.
Beyond the dangers of DIY Christmas decorating, many homeowners simply don't have time to keep up with trends in holiday decorating. The professionals at Neave Holiday Decorating are always up to date on the latest Christmas decorating trends. This year, Neave's Christmas decorators spotted four standout trends for at-home holiday decorating:

LED lighting: It saves electricity and reduces the risk of electrical dangers, especially for outdoor lighting. LED technology is improving every day to look more like incandescent bulbs.
Cool colors: Blue lighting is still in for 2012. It's cool and modern against a snowy backdrop, and colors beyond the traditional red and green are always unexpected and classy.
Themes: Whether it's a classic red and gold look or a luxe silver and gold, themes are becoming more prevalent. And with fun accents like snowflakes or icicles, toy trains and soldiers, or fruit, berries and twigs, the opportunities for personalization are endless.
Vintage décor: Oversized multicolored strings of lights are becoming popular again for an old-fashioned look. Keep displays simple and just line the house with multicolored strand after strand, or mix them into the décor with tiny white lights for an eye-catching blend of old and new!
Professional Christmas decorators are experts in both safety and style, but there are plenty more reasons to consider letting the professionals handle it. Check out Neave Holiday Decorating's Christmas infographic for all 12 reasons, or visit Neave Holiday Decorating's website for more professional Christmas decorating advice.
For more information on decorating for the 2012 holiday season, contact Kathy Neave of Neave Holiday Decorating at (845) 463-0592.