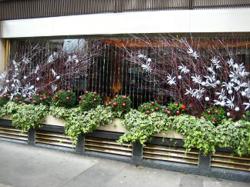 (PRWEB UK) 15 November 2012
London based wedding and events florist Todich Floral Design are offering a personal Christmas decorating service to all offices, hotels and homes within London and the surrounding areas.
The florists are pleased to announce that they have a talented team of expert floral designers, stylists and consultants who are ready to decorate all venues with a professional designer service.
Working with recent trends and popular fashions, Todich Floral Design sends out their professional stylists to meet with each client and ensure they offer a friendly customer service, the consultants will then take photographs of the venues and make a note of the colour scheme, décor and atmosphere of the room. The aim is to design bespoke festive arrangements which will enhance the rooms for the Christmas Season.
'Currently we are working with a company based in Soho, London', say head wedding consultant Laura Fisher, 'we try to get an understanding of exactly what the client is after and create designs based on their requirement,
The office in Soho has a traditional look; therefore we are designing arrangements with a classic Christmas theme, A red and gold decorated Christmas tree will be presented at the front of the reception and gold and red walled wreaths will be hung around the offices, we have designed the wreaths so that they are not heavy with decorations and instead the wreaths will add a little touch of Christmas cheer to the offices'.
Todich floral design's bespoke styling services includes a whole range of Christmas paraphernalia, from Christmas baubles to scented candles and from decorative crystal charms to ribbons for chandeliers, the florist is stocked with beautiful decorations that would suit any venue.
'We love designing different themes for venues, our latest hotel wished for us to create Christmas floral displays in a vintage style, we created festive arrangements that included natural colours to fit in with their cream and grey colour scheme, moving away from heavy use of foliage, we wanted to create longevity from our designs and produce displays that they could use over and over again' says head stylist Julianna Williams
Todich floral design are accepting bookings for the Christmas decorations service throughout November and the beginning of December, The florist encourages everyone to take a look at their website of call 02077371166
About Todich Floral Design
Todich Floral Design is an award winning wedding and events florist based in south London. The company caters to customers in London and the surrounding areas and offers high quality customer service. Todich Floral Design offers unique and bespoke floral designs for weddings, events and corporate clients on continuous bases.