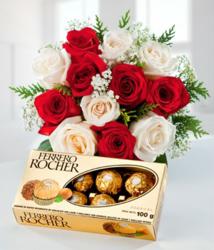 October is a nice, quiet time of year when the mad holiday rush hasn't yet taken hold.
Miami, FL (PRWEB) October 31, 2011
Christmas is just over two months away, with Thanksgiving and Halloween to brighten the cold in-between days -- but online florist daFlores isn't holding back. daFlores has unveiled its 2011 Christmas collection to give early-bird customers a chance to do their holiday flower-giving at an uncluttered time of year.
"Offering Christmas flowers early is a service to both our customers and our flower shop partners," explains Francisco Bustos, CEO and President of daFlores.com. "October is a nice, quiet time of year when the mad holiday rush hasn't yet taken hold. Customers can take care of their flower-giving needs now, before everything gets crazy, and our flower shops can plan ahead. It's a win-win situation for everyone."
The 2011 daFlores holiday collection features traditional holiday favorites such as red and white roses with dark green foliage, poinsettias, and wreaths. All can be combined with optional vases, chocolates, wine and other gifts such as plush toys. Customers can set the date of delivery well in advance to ensure perfect gifts and holiday decor. Sending flowers for the holidays is a convenient and loving way to keep in touch with loved ones this December.
"We guarantee our flowers will stay fresh for at least a week," says Mr. Bustos. "With care, they often last longer. Someone who orders flowers for delivery just before Christmas will enjoy them for a good piece of the season. If you wait until the last minute, we can still deliver, but sometimes our florists run out of one type of flower and have to substitute. By offering our Christmas collection now, customers can ensure they get exactly what they want, when they want it. For a perfect Christmas, having the right flowers is very important."
About daFlores International Flower Delivery Company
daFlores.com is part of Flores a Colombia, Inc., a United States corporation. The family-owned company is based in Miami, Florida, and works through an international network of experienced local florists who meet stringent quality requirements. The daFlores.com holiday collection is conveniently divided into price ranges, and customers are welcome to select any other arrangement for holiday delivery.
###