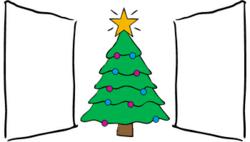 (PRWEB) November 30, 2012
At this time of year people enjoy sending and receiving Christmas cards People are connected to more and more people through social media and online communities. The average online user has 130 Facebook friends and 126 twitter followers. From these figures it's clear to see that the numbers of cards that could be send soon becomes prohibitive.
For businesses too, a Christmas card to clients and prospects can be received positivity. However the thought of sending hundreds (even thousands) of paper cards can be seen as wasteful, and potentially damaging to the environment. The amount of cards sold in the US during the holiday season could fill a football field 10 stories high, and requires the harvesting of nearly 300,000 trees.
In order to help spread some Seasons Greetings without breaking the bank, BrightCarbon have created six PowerPoint Christmas cards. They are fully customisable and can be share with friends and family all over the world via the web and the numerous online social networks.
Simply choose a PowerPoint design of your liking from the BrightCarbon website – be it ice skating penguins, snowmen, or Father Christmas himself - add embellishments and share with the community, sending a personal message of Christmas cheer for the Holiday Season.
About BrightCarbon
BrightCarbon helps sales and marketing teams hit their numbers, by creating visual presentations and B2B sales tools.
BrightCarbon helps companies to tell their stories elegantly and visually, with effective sales presentations and tools that people want to use. With BrightCarbon:

Sales representatives stop wasting time creating their own collateral, and become more productive
Companies improve conversion rates and deal velocity
Average order size increases
BrightCarbon also offers an iPad sales presentation design service, aimed at companies using iPads for face-to-face sales, wishing to avoid the high costs of app development.
BrightCarbon has offices in the UK and Singapore.