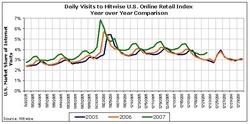 Although the Nintendo Wii was the most talked about product during the holiday season, mp3 players were also very popular as Christmas gifts
NEW YORK (PRWEB) December 27, 2007
There was significant growth in traffic for Zune.net on Christmas Day, but iTunes remained the predominant download site with a market share over 6 times larger than Zune.net. The total market share of visits for Zune.net reached 0.09 percent on Christmas Day, as opposed to the market share of visits to iTunes which reached 0.68 percent.
Additionally, the market share of visits to the iTunes website (http://www.apple.com/itunes) jumped 339 percent on Christmas Day 2007 (December 25, 2007) from the previous day as new iPod owners went online to download iTunes. The Apple Store was the ninth most visited website in the Hitwise Retail Index on Christmas Day 2007 and the market share of visits to the Apple Store (store.apple.com) showed an increase of 169 percent when comparing Christmas Day 2007 to the previous day.
"Although the Nintendo Wii was the most talked about product during the holiday season, mp3 players were also very popular as Christmas gifts," said Heather Dougherty, Director of Research at Hitwise. "This year the Zune has captured interest from music listeners with a new line of redesigned players and discounted older models while the popularity of iPods continued to drive traffic to the Apple Store and iTunes website."
Online Holiday Shopping Update:
-- The Hitwise U.S. Retail 100 Index chart shows that visits to the websites within the Index were down 10 percent for the week ending Dec. 22, 2007 versus last week (Dec. 15, 2007). U.S. traffic is up 16 percent compared to the same week last year (Dec. 23, 2006).
-- Amazon.com was the most visited website within the Retail Index last week, receiving 12 percent of U.S. visits. Walmart.com received the second-most visits with eight percent. Shopping.com, Dell.com and Macy's.com were the biggest gainers for the week, as their website's traffic increased 34, 18 and 18 percent respectively, compared to the previous week.
-- The Nintendo Wii and Uggs were again the most popular product search terms sending visits to Shopping and Classifieds websites for the week ending Dec. 22, 2007. The terms "wii", "nintendo wii", "uggs" were the top three product searches. Nintendo Wii and Ugg have consistently been the top searches this holiday season. The iPod made a strong showing this week as that product could have been a favorite last minute gift for many.
About Hitwise
Hitwise is the leading online competitive intelligence service. Only Hitwise provides its 1,400 clients around the world with daily insights on how their customers interact with a broad range of competitive websites, and how their competitors use different tactics to attract online customers.
Since 1997, Hitwise has pioneered a unique, network-based approach to Internet measurement. Through relationships with ISPs around the world, Hitwise's patented methodology anonymously captures the online usage, search and conversion behavior of 25 million Internet users. This unprecedented volume of Internet usage data is seamlessly integrated into an easy to use, web-based service, designed to help marketers better plan, implement and report on a range of online marketing programs.
Hitwise, a subsidiary of Experian (FTS: EXPN) http://www.experiangroup.com operates in the United States, United Kingdom, Australia, New Zealand, Hong Kong and Singapore. More information about Hitwise is available at http://www.hitwise.com.
For up to date analysis of online trends, please visit the Hitwise Intelligence-Analyst Weblogs at http://weblogs.hitwise.com and the Hitwise Data Center at http://www.hitwise.com/datacenter.