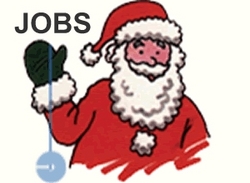 The page includes simple descriptions of jobs and how the jobs fit into Santa's business.
(PRWEB) December 18, 2008
Contrary to common belief, elves and reindeer aren't the only members of Santa Claus' North Pole workshop staff. Job hunters around the world can delve into a variety of North Pole positions open now through international job advisory website CVTips.com's pardoy page "Work for Santa Claus."
Christmas Eve is rapidly approaching and Santa is in dire need of skilled workers to fill all positions from toy assemblers to toy testers. Among the posts open are Email Processors, Factory Workers, Elves, Letter Processors, Reindeer Keepers, Santa Helpers, Stable Handlers, Toy Distributors, and Toy Testers.
Not just for career-searching adults, CVTips.com's newest webpage was also designed to teach kids the components of a job search. From cv to resumes to cover letters to job interview tips, CVTips.com Editor Paul Wallis says the new page lists a host of advice for youth learning about how to secure employment.
"We wanted to create a special site for young kids that would be fun and give them insight into how people get jobs," he says. "The page includes simple descriptions of jobs and how the jobs fit into Santa's business."
Creative job descriptions detail all that's involved with each position, including the technical aspects of jobs like Toy Tester. Further fun employment particulars like location, hours and pay are also listed on the site to help children decide which position is best for them.
For more adult job hunters, CVTips.com also offers a new, special page intended to equip readers with the tools to successfully find a part time holiday job. Advice on when to look for a holiday job, which industry sectors to pursue, how to go about applying, and much more is all described in depth on the new Holiday Jobs tip page.
While Christmas time may be a particularly difficult period to be in the throes of job hunting, leading international job advisory website CVTips.com offers the most comprehensive and useful guidance available online. From temping to holiday student jobs and much more, CVTips.com breaks down exactly what working in a particular segment of business can entail and how to break into your next career.
Practical and applicable tips and advice can be found throughout CVTips.com. How to write a resume and cover letter; what to do before, during and after an interview; interview questions; help on how to give an interview; a job search forum; blogs; recent job promotions; the best and most professional ways to resign; and much more is only a click away.
About CVTips
According to Chief Editor of CVTips.com PaulWallis, CVTips understands and empathizes with the hardship that accompanies unemployment.
Persistence, understanding the job search process, and upgrading one's skill set are all keys to obtaining a job.
With CVTips.com, the ball is now in your court. Good luck and Season's Greetings to all job seekers of the world!
For more information, please visit our website at http://www.CVTips.com.
We would like you to take this opportunity to invite you to link to our site
###