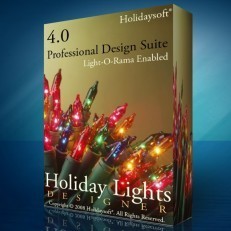 Windermere, FL (PRWEB) September 22, 2008
Modeling the perfect holiday light display and decorations just became easier with the latest version of Holiday Lights Designer by software development company Holidaysoft®. Holiday Lights Designer 4.0 allows users to virtually design and preview an assortment of Christmas light concepts on top of images of an actual home or business.
With Holiday Lights Designer 4.0, users can quickly create realistic and professional decorating models. From basic designs to complex four-sided designs, the new software allows users to either draw upon holiday decorations from the Holiday Lights Designer library or import their own. The software offers several different lighting choices, including C9, C7, Mini, Net and Icicle lights.
As an added feature, new Holiday Lights Design 4.0 software works in tandem with the Light-O-Rama programmable light controller software to customize moving light effects. The two software programs interface with each other in order to give users an even more lifelike representation of their holiday lights and decorations design.
Enhanced options allow users to fully customize their three-dimensional design to reflect different color patterns and bulb spacing, add fog and snow effect, include 3D lights, control daylight settings, add decorative images, zoom in and out, and much more. Software features also include point-to-point auto-fill decorating, project reports, design exporting, ambient lighting and blinking effects.
Holiday Lights Designer™ software packages start at $49.99 and are available for purchase at http://www.holidaysoft.com. Holidaysoft® also offers a 30-day trial of their remarkable software, free on their website.
About Holidaysoft®, LLC
Holidaysoft®, LLC. a privately held company based in Orlando, Florida, develops innovative holiday decor software products for customers all over the world, ranging from enterprises to small businesses and home users. Founded in 2002, the company provides best-of-breed software solutions that simulate holiday- and Christmas-themed lighting and display designs. Holidaysoft® has received many positive reviews and recommendations by respected third-party media and product reviewers.
For more information about Holidaysoft's holiday decoration software Holiday Lights Designer™, visit http://www.holidaysoft.com.
Media Contact:
NAME Michael Collins
EMAIL michael@holidaysoft.com
PHONE (407) 619-1049
###