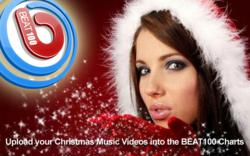 BEAT100 Music Video Chart where Bands and Musicians get seen, heard and rewarded.
(PRWEB) November 19, 2012
Well, it certainly is the season to be jolly this December with the BEAT100 Music Chart. BEAT100 decided to shake things up, so instead of running the regular BEAT100 Music Video Chart, BEAT100 will be giving away $800, plus a worldwide press release worth $400, to first place if they enter the chart with an original or cover of a Christmas song. Not only will first place get the chance of receiving this massive cash prize, but second and third places will also receive double the money ($400 and $200) if they place with a Christmas song too.
Double money will not be awarded to the top three winners if they place with a regular original or cover song. However, musicians will receive a bonus amount (on top of the regular prize value) of $200 (total of $600) for first, $100 (total of $300) for second and $50 (total of $150) for third to keep up the high Christmas spirit!
The Christmas chart will be compiled on Sunday 23rd of December, but all music videos uploaded from now will be in the chart until that time. This promotion will only take place on that day and any charts compiled up until the 23rdwill still go by the regular rules and money values of $400, $200 and $100 for first, second and third places. Remember to make video uploads the best it can be as the better the entry, the more bonus votes a user will receive for the video. This includes well-written songs, high quality videos, impressive vocal/musical performances and for being a BEAT100 favourite video. All regular terms & conditions apply to the chart and BEAT100 reserve the right to change this offer at any time.
Musicians and bands should start uploading music video entries into the Christmas Music Video Chart today and be sure to share videos with friends, family and fans in order to maximise the number of votes. BE SEEN – BE HEARD – BE REWARDED at BEAT100.com