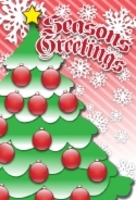 Hundreds of free printables for the winter holidays; each of the sites features all-new designs for the 2011 season
Portland, OR (PRWEB) December 9, 2010
FreePrintableGreetingCards.net, FreePrintableGiftTags.net and SantaPrintables.com offer hundreds of designs for the winter holidays, and each of the sites features all-new designs for the 2011 season.
"People who are too busy to run to the store, or just enjoy the convenience of downloading professionally illustrated greeting cards and gift tags at the click of a mouse, appreciate these handy websites," said Kevin Savetz, who has been creating free printables sites since 2005.
SantaPrintables.com has more than 40 brightly illustrated, "signed" letters from Santa to choose from, including letters for boys, girls, baby's first Christmas and even the family pets.
"The letters are ideal for friends and family members of good little boys and girls who want to 'help out' Santa, who is also pretty busy this time of year," Savetz said. "There are even a few funny letters for grownups, and this year I've added letters for Secret Santa gift-giving and other situations."
There are two options for downloading the Santa letters. There's a free PDF version of each letter, intended to be printed out as-is so the child's name can be written in by hand. Another choice is the $5 premium DOC version that can be opened and edited in Microsoft Word, customizing the letter with special details about the recipient.
Savetz recently added 28 new holiday designs to FreePrintableGreetingCards.net, including full-color cards with wreaths, Christmas trees, elves, snowflakes and more. The site has more than 165 greeting cards for all occasions, and they're free to print in PDF form or $4 for each customizable DOC version.
Also new this year are even more printable gift tags at FreePrintableGiftTags.net, including Santa Claus, snowmen, nutcrackers, snowflakes, "Seasons Greetings" sentiments and other designs. All are free to download and print in either PDF or DOC format, and there are 10 copies of each design per sheet. They can be printed on regular computer paper, cardstock or sticker paper.
There are more than 60 sites in the FreePrintable.net family of free printables sites created by Savetz Publishing Inc., a company devoted to creating useful and informative web sites of interest to consumers and small businesses.
###