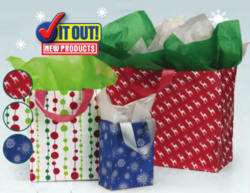 We offer same-day shipping on all orders placed by 3 p.m. to ensure that store's receive their orders in a timely manner.
St. Louis, MO (PRWEB) December 21, 2012
The holiday season is always a busy and exciting time for retailers. Festive merchandise displays and holiday store décor is important in order to keep customers interested and coming back for more. Store Supply Warehouse, a St. Louis based retail supply company, has compiled a list of last-minute store supplies to help retailers get through the busy holiday season.
"When decorating for the Christmas season, retailers will quickly deplete their stock of everyday store supplies," says Matt Wohlstadter, President of Store Supply Warehouse. "We offer a large selection of bulk products, so that retailers can continuously restock during the holiday shopping season."
Among their wide selection of last minute store supplies, retailers can utilize the following:

Price Tags: From colored price tags to blank price tags, retailers can stock up with cartons ranging from 50 to 1000.
Retail Packaging: With boxes, ribbon and tissue paper in high demand during the Christmas season, retailers can replenish quickly with large quantities available.
Hangers: As clothing is purchased as gifts, hangers tend to deplete quickly. Choose among our selection ranging from heavy duty hangers to plastic economy hangers available in large quantity cases.
Dump bins and baskets: With inventory continuously turning over, these items help separate and organize gifts, trinkets and accessories for customers looking for last minute gifts and stocking stuffers.
In addition to everyday items, retailers may find that their holiday shopping bags diminishing rapidly. Store Supply Warehouse offers a wide selection of festive retail supplies designed specifically for use during the Christmas season. Holiday shopping bags, an essential for any retailer during the month of December, come in a variety of patterns and colors.
"We understand that retailers are incredibly busy during the holidays. When they run out of Christmas shopping bags during the holidays, we want to help them restock quickly. We offer same-day shipping on all orders placed by 3 p.m. to ensure that store's receive their orders in a timely manner, in order to keep their businesses operating as usual," adds Wohlstadter.
Store Supply Warehouse can ship to 98 percent of the U.S. population within 2 days or less. For a complete list of holiday specific items, please visit the website: http://www.storesupply.com/c-644-holiday-items.aspx
About Store Supply Warehouse
Store Supply Warehouse was founded in 1994 and has since seen immense growth. Selling only retail fixtures and retail store supplies, which includes display cases, racks and shelving, shopping bags, hangers, pricing and tagging guns and mannequins, the distribution chain takes pride in its quick transaction process, and quality customer service. Products are available for purchase through Store Supply's 80-page catalog, which is updated and distributed three times a year, or online at http://www.storesupply.com. Guaranteed same day shipping is received on all orders placed before 3 p.m. The company's main office is located at 9801 Page Avenue, St. Louis, Missouri, 63132. Contact Store Supply directly at 800-823-8887 or by email at contactus(at)StoreSupply(dot)com.