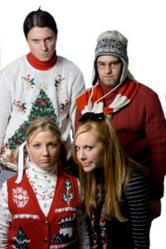 'Tis the Season Once Again -- Ugly Christmas Sweater Party Season
(PRWEB) November 08, 2011
Rusty Zipper, the world's first virtual vintage clothing store, is celebrating their website's 16th anniversary this holiday season, and they're giving shoppers an early Christmas present. Be the envy at every holiday party and outdo all others this year with their latest collection of festive, overdone Christmas Sweaters only found at http://www.RustyZipper.com.
"The sweaters look like the holidays just threw up on your chest. Add to that a little flirty kitten, reindeer or teddy bear fun, and that pretty much sums up these fantastic vintage Ugly Christmas sweaters," said founder Jennifer Chadwick.
The Ugly Christmas Sweater Party phenomenon began a few years ago as a college campus trend. Outfits were put together from thrift stores and parent's closets to win the coveted best garishly dressed award.
"A few years ago we would have sold a few dozen Christmas sweaters during the holiday season. Last year however, we sold out selling well over 3,000," said Jennifer Chadwick.
Nothing says holiday spirit like a little family and friend rivalry, and with a selection of over 5,000 (and more added daily) Ugly Christmas sweaters, everyone in the family can join the fun. Each sweater, sweater vest and sweatshirt features festive colors, nauseatingly cute animal themes, or holiday staples like Santa and Rudolph – all easily searchable on the site.
Throughout November and right up to Christmas, Rusty Zipper's team of 10 are devoting days, nights and weekends to sorting, laundering and photographing the whole Christmas sweater collection with accompanying detailed descriptions for each garment on the website for shoppers to read. The crew will also be working hard to brighten holiday spirits, literally, by adding twinkling, blinking LED lights to several hundred sweaters.
For more information and to shop online, visit http://www.rustyzipper.com/uglychristmassweaters/.
About Rusty Zipper
RustyZipper.com started off as a hobby business and became the web's first virtual vintage clothing store. Since its launch in November 1995, they have been doing what their team of 10 loves – amassing the web's largest collection of vintage clothing and Ugly Christmas Sweaters. For 16 years the company has been growing and expanding its one-of-a-kind clothing collection of items from the 1940s through the 1980s. Over 29,000 unique items for men, women and children, spanning across a 7,000 sq. feet warehouse are available online to view and order.
Contact:
Jennifer Chadwick
jen(at)rustyzipper(dot)com
# # #