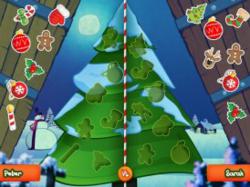 Tree Topper is the ideal game for Christmas gatherings
Egypt, Cairo (PRWEB) December 17, 2012
With the Christmas holiday quickly approaching, families are gathering and homes are packed with up to three generations of family members. As is the norm during this time of year, games and group activities tend to be very popular, especially where children are concerned.
This year, Webkeyz takes one of the most popular and favored Christmas activities to iPad with their new game Tree Topper. The aim of Tree Topper is to decorate the Christmas Tree as quickly as possible, giving the fastest player the privilege of placing the final piece on the tree's crown; the Tree Topper.
The game comes in three different modes, each presenting a different challenge for the players and allowing for group interaction in a single game.
"Tree Topper is the ideal game for Christmas gatherings," says Waleed Youssry; Webkeyz' Founder and Managing Director.
The modes of the game offer different kinds of challenges for players every time. The Be Fast mode depends on the speed of the players, giving them 90 seconds to complete the tree's decoration. The Dark Room takes this challenge to the next level by letting players decorate the Christmas Tree in the dark, giving the fastest player to decorate the tree the privilege of placing the Tree Topper. The third mode allows players to compete, taking turns to Knock Out one another at the challenge.
Tree Topper is a group family game intended for gatherings and fun interaction between children during Christmas. "Having a group of kids but only one iPad this Christmas? Tree Topper is the solution!" says Haytham Mahran; Webkeyz' Creative Director. "I played it with my family and we had a blast!"
Future versions of Tree Topper will take the group-gaming ideology to a whole new level by releasing a networked version that allows up to six players to compete in one game.
"We take Christmas fun very seriously," says Waleed Youssry. "It's a special time of the year that must be enjoyed, and we believe Tree Topper can help make this happen."
Tree Topper is available for download on the AppStore at https://itunes.apple.com/us/app/tree-topper/id579322146?mt=8.
Tree Topper website: http://www.treetopper.info/
Tree Topper Facebook page: http://www.facebook.com/TreeTopperApp