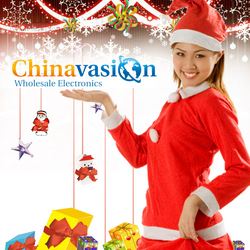 It is like wholesale companies are giving resellers an early Christmas gift.
Shenzhen, Guangdong (PRWEB) October 9, 2008
Resellers and ecommerce vendors don't need to fear the credit crunch Grinch this Christmas. The wholesale market and China wholesale electronic gadgets makers shouldn't be hurt by the recession; even if many on Wall Street are looking for the closest exit.
The fates certainly haven't been kind to the world's economic markets lately. Global stock exchanges and people in some US firms have become the latest victims of the downward slide caused by the US mortgage collapse.
The tougher economic conditions have not reduced people's appetite for consumer electronics though.
Surveys from US retail associations, the Consumer Electronics Association and National Retail Federation show up strong demand for consumer electronics in the US. A National Retail Federation study showed US adults spent $151.61 on electronics in July this year, compared to $129.24 in 2007.
Other signs are positive for people selling consumer electronics online this Christmas.
The balance of wholesale electronic gadgets supply has swung in favor of consumer electronics vendors. Especially those that import Chinese goods and gadgets wholesale.
The global economy slowdown has cooled the overheating China economy and most Chinese electronic goods' prices have either plateaued or dropped as a result, according to Rose Li, PR manager for wholesale dropship company, Chinavasion.
"Flash memory prices have fallen considerably this year," said Rose Li.
China cell phones are much cheaper than they were last year, according to Rose Li, thanks to the number of new China cellphone wholesale companies that have emerged recently.
"Prices for popular resale items like touchscreen MP4 players and unlocked cell phones have plummeted," says Rose Li. "It is like wholesale companies are giving resellers an early Christmas gift."
According to Chinavasion's Rose Li resellers aren't only getting their wholesale electronics for less from the wholesale market in China.
And gadgets will definitely be on the Christmas wish lists for many people this year.
"The global consumer electronics market is still strong," says Rose Li. "People want their iPhones, their Wiis, their MP4 players and mobile phones, even if things are a little tighter than last year."
"Gadget gifts and electronics will make popular Christmas presents this holiday season," says Rose Li.
The time has never been better to get in on, or increase involvement in this exciting ecommerce sector, sourcing wholesale electronics from China and selling them online. Why not come to Chinavasion where we're so confident of a profitable Christmas for our resellers that we've opened up a special wholesale Christmas category, full of gadgets and decorations for the holiday season.
###