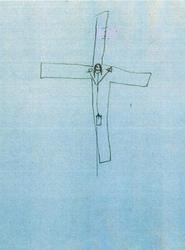 Atlanta, GA (Vocus) December 22, 2009
What is Christmas all about? This was the basis of a recent assignment given to a group of 2nd grade students at Maxham Elementary in Massachusetts. It is also a subject Jason T. Berggren, author of the controversial book 10 Things I Hate About Christianity: Working Through the Frustrations of Faith, has been actively discussing, as is clear in his article Santa vs. Jesus. But the author expressed outrage in a recent critique of school officials at Maxham for their extreme reaction to a student's completion of the Christmas assignment.
The Public school officials sent an 8-year-old child home and subjected him to a mandatory psychological evaluation for his drawing of Jesus Christ on a cross--symbolizing the meaning of Christmas. Although they claim the drawing drew their attention due to the depiction of violence, Berggren is not convinced.
It is no mystery the cross signifies something important and positive to those of the Christian faith. Such cultural information and popular religious folklore should be common knowledge to educators. For officials to send the child home and require a psychological evaluation for such a familiar representation calls into question the judgment and qualifications of those involved.
Berggren holds that this is likely a case of political correctness gone overboard, more than it is concern for the child.
"The truly insidious side to political correctness is that it's always done under the guise of help, concern, tolerance, and diversity. But the truth is, it is often sanctioned intolerance and forced uniformity. This sure didn't help anyone. And any reasonable and quick common sense assessment of the situation would surely reveal a lack of concern for the child and his family," wrote Berggren in his statement.
The author alleges the reaction may also be a borderline violation of the child's First Amendment Rights. He hopes the family will file a complaint. A reprimand of school officials followed by a formal apology is certainly in order. Berggren believes such a gesture of respect and contrition would go a long way toward easing tensions and future concerns for this child and family.
To learn more about the author, his book, or see his ABC News interviews visit 10thingsihate.com.
Contact:
Jason T. Berggren
770-828-8198
###