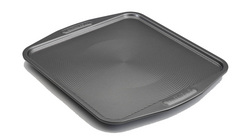 Manchester, UK (PRWEB) December 10, 2008
Christmas, for all its sparkle and fun, can be a tad stressful, especially where Christmas dinner is concerned. Planning and preparation are key, which is why Move Cookshop has devised a quick guide to all the Christmas dinner kitchenware essentials.
First and foremost, the Christmas turkey generally forms the centrepiece of the dinner table. With the right cookware the turkey and all the trimmings can be roasted to perfection in a single tray. A particular favourite is the traditional Mermaid Roasting Tray and Rack at £37.95 because its durable stainless steel rack allows the juices from the meat to run off, which can then be made into delicious homemade gravy. For all the vegetables a superb choice is the Circulon Non-Stick Oven Tray at just £9.95 with the best non-stick surface around.
Ever tried to carve meat with a vegetable knife? It's not so easy, especially when serving up dinner for the whole family. One of the most popular carving sets around is the Sabatier Professional Carving Set which comprises a super sharp slicing knife and a strong fork for £44.95. That turkey's not moving anywhere! For the ultimate carving knife and for those not restricted to a budget, the Kai Shun Slicing Knife at £103.95 comes highly recommended. Layers of steel combined with a ergonomically designed handle make this a fantastic knife to have to hand.
For a truly traditional touch, place bowls of nuts on coffee tables for family and friends to snack on when they visit at Christmas time. Offer a helping hand with the sleek, stylish WMF Profi Plus Nutcracker at £19.95 for German elegance in top quality stainless steel, or try the OXO Good Grips Nutcracker at £7.95 with squashy handles to absorb pressure.
To see all of these fantastic products and more, visit: http://www.MoveCookshop.co.uk
Make sure you've got all the essentials you need well before the big day to keep stress levels down. Our essentials list includes:

Top quality roasting tray
Carving knife and fork
Oven tray for vegetables
Yorkshire pudding tray for miniature puddings
Silicone tongs for easy maneouvring of food
Ladle for drip-free serving of gravy
Nutcracker
###