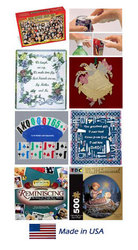 "When you hear the news about so many unemployed Americans, purchasing a Christmas gift made in the USA may help you feel like you are actually improving the economy."
Frazer, PA (PRWEB) December 4, 2009
While most retailers offer products made in several countries, most do not advertise actively products made in the USA. They may fear being labeled as protectionist or against free trade.
At least one company, Wellhaven Gifts for Seniors & Boomers is actively promoting products made in the USA. "We are proud to offer many items made in the United States, just as we are pleased to sell quality products made in other countries," stated Patricia Curry, baby boomer entrepreneur and founder of Wellhaven, LLC. "When you hear the news about so many unemployed Americans, purchasing a Christmas gift made in the USA may help you feel like you are actually improving the economy."
Some of the items made in the USA that Wellhaven offers include:

Sofa throw blankets for moms, dads, grandparents and great-grandparents
Milestone wedding anniversary Christmas tree ornaments
Jigsaw puzzles with retro designs
Large print playing cards for those with low vision
Gadgets that enable easier everyday living
Wellhaven develops and sells unique and useful gifts for multiple generations of family and friends, gifts that celebrate life's milestone events and aids to daily living products for senior citizens. The company sells its products online at http://www.wellhaven.com.
###