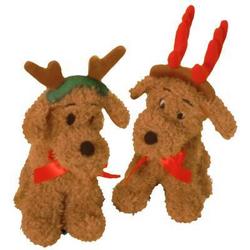 We've made a strong effort to find pet products made in the U.S.A.
(PRWEB) December 7, 2007

Edmonton, AB Christmas gifts for pets purchasing easy at Petago
New pet product site features top quality dog gifts
It's Christmas time again already! You're almost done shopping, but wait, you've still got to buy a gift or two for your dog! Petago has made it easy for you with its top ten Christmas gifts for dogs.
https://www.petago.com/content.php?id=1362
"Our top ten list gives you great gift ideas for your dog," said Jim Gladden, Petago president. "Christmas is always such a hectic time and Petago makes christmas shopping for your pets easy."
Petago's site recently rolled out and offers hundreds of quality pet products. The site is well organized and easily navigated to make your online shopping experience easier.
"We specialize in your pet's needs and we have a huge selection of pet products," said Gladden. "We have everything from toys, chews, treats and collars, to grooming and health products, beds and blankets."
Ordering products for your pets will be easy with Petago's recurring order service for essential pet foods and pet medications, which is set to debut very soon.
"The goal at Petago is to give you high quality products, great selection and great service," Gladden said. "Regular visitors to the site will see new products and services to make the experience for pet owners even better."
Petago specializes in top quality pet foods and pet medications you can trust, so you can rest easy knowing your pet will be well taken care of with products.
"We've made a strong effort to find pet products made in the U.S.A.," Gladden emphasized. "In fact, many of our dog gifts are made in the U.S.A."
If you're stuck trying to figure out what to buy your pet for a Christmas gift, then a visit to Petago is in order.
What dog couldn't do with a little bling like a rhinestone collar? Petago's gift list also includes chew toys, dog treats and more.
And, in the unlikely event that your pooch is lucky enough to already have everything on the top ten list, the Petago has dozens of other items that your dog would love to have.
About Petago
Petago is an online pet product retailer whose aim is to provide the best selection of top quality pet products. The goal is to give you a one-stop shop where you can buy your pet's food, medications and all other products your pet might require or want.
###