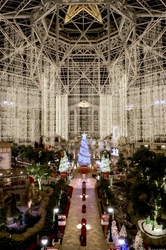 How The Grinch Stole Christmas!
Grapevine, Texas (Vocus) July 24, 2009
In celebration of its fifth year hosting the awe-inspiring ICE! exhibit, Gaylord Texan brings to life a brand new attraction - the Dr. Seuss holiday classic "How The Grinch Stole Christmas!" In a series of colorful scenes straight out of the original storybook pages, Gaylord Texan's ICE! attraction will brilliantly showcase how the "Whoville-hating" Grinch with a heart two sizes too small learns the true meaning of Christmas.
In mid-October, 40 master artisans will travel to Gaylord Texan's location in Grapevine, Texas from Harbin, China - otherwise know as the world's "ice city" for its spectacular outdoor ice sculpture displays. Transforming 5,000 blocks of ice weighing two million pounds into the city of Who-ville will take the carvers approximately 30 days. From the Grinch's frozen mountaintop lair and 20-foot high slides to a variety of family photo opportunities and the picturesque Who-ville including feasting Who's and Max the dog, the enchanting attraction will make more hearts than just the Grinch's grow three times in size.
"This classic Christmas story is loved by the generations and makes a perfect addition to the magical winter wonderland we create each holiday season," said John Imaizumi, Gaylord Texan's Senior Vice President and General Manager. "And our Grapevine destination, recently named the official Christmas capital of Texas, could not be a better home for Who-ville."
Gaylord Texan's famed ICE! attraction featuring "How the Grinch Stole Christmas!" will open Thursday, November 12th, 2009 and run through Sunday, January 3rd, 2010. The exhibit will be open 10:00 a.m. - 9:00 p.m. on Sunday - Thursday and 10:00 a.m. - 10:00 p.m. on Friday and Saturday.
On Monday - Thursday, ticket prices will be $20 for adults, $10 for children 4 - 12, $18 for seniors 55 and up, and free for children 3 and under. On Friday - Sunday, tickets prices will be $23 for adults, $12 for children 4 - 12, $20 for seniors 55 and up, and complimentary for children 3 and under. Complimentary self-parking is included in the ticket price.
Lone Star Christmas at Gaylord Texan
The ICE! attraction is just one of many activities taking place this holiday season during Gaylord Texan's annual Lone Star Christmas event. Visitors to the resort will also enjoy breathtaking holiday décor including 1.5 million holiday lights and 30 seven-foot tall ornaments strung from the top of its glass roof; a 50-foot tall rotating Christmas tree; multiple miniature train sets; 14-foot tall decorated cowboys boots; a life-size gingerbread house; Santa's workshop including a cookie conveyor belt and control station; and dozens of lavish holiday displays including 2,300 feet of garland, 5,600 wreaths, and 10,000 ornaments.
A variety of amusing holiday entertainers will also be present and include Santa Claus & Mrs. Claus, toy soldier stilt walkers, singing cowboys, balloon artists, and more.
Lone Star Christmas Room Package
Visitors can enjoy all of Gaylord Texan's holiday offerings with the special Lone Star Christmas room package. Beginning at $179 per night, the package includes luxury room accommodations, breakfast for 2 adults and 2 children in Riverwalk Café, self-parking, and the resort fee. Those who purchase a Lone Star Christmas room package before September 7, 2009, will receive discounted rates beginning at just $159 per night. Rates are subject to change and availability. Reservations can be made by calling Gaylord Texan Reservations at (817) 778-2000 or by visiting http://www.gaylordtexan.com.
Fun Fact:
ICE! featuring the Grinch is not the only one "going green" this year! As part of Gaylord Texan's continued commitment to energy conservation, over 80% of the Lone Star Christmas holiday lights are now LED.
For more information on Gaylord Texan's holiday events and activities, please call (817) 778-1000 or visit http://www.gaylordtexan.com. As always, local day visitors who spend $25 or more in Gaylord Texan's award-winning restaurants, unique retail shops, or European-inspired Relâche Spa will receive complimentary validated self-parking.
Media Contact: Martha Neibling, (817) 778-1145. High-resolution images and media tours available upon request.
###